Feng Jun
(chinadaily.com.cn)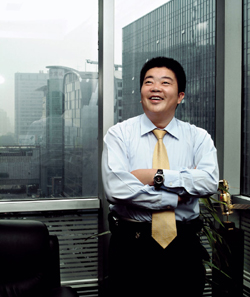 After graduating from Tsinghua University in 1992, Feng Jun set out its business dream in Zhongguancun.
Feng Jun, President of Huaqi Information Group.
1992 – Graduated from the Department of Civil Engineering, Tsinghua University
1993 – Founded Beijing Huaqi Information Digital Technology Co Ltd
1997 – Created the Chinese digital products brand Aigo.
2006 – Won "CCTV China Economic Figure of the Year – Innovation Award".
After graduating from Tsinghua University in 1992, Feng Jun set out his business dream in Zhongguancun. He used to be a handcart laborer and a computer salesman. After 13 years of hard work, Feng Jun developed Aigo into a well-known national IT brand.
Under the leadership of Feng Jun, the turnover of Huaqi Information has maintained a stable annual growth rate of 60 percent for 10 straight years. At present, Aigo mobile storage products, MP3 and displays rank in the top three in the domestic IT market.   
In 2002, Aigo reached the top place in the domestic mobile storage and USB flash drive industries with a market share ranking first for four consecutive years.
In 2004, the market share of Aigo MP3 was twice that of the second-ranked ROK's Samsung, and ten times that of the Japanese brand Sony, becoming the first national brand surpassing numerous international competitors in the domestic digital field.
Since 2002, Huaqi has set up an internationally leading research institute for digital imaging technology and developed a digital watermarking technology-based digital camera with proprietary intellectual property. It is also the world's first digital watermarking digital camera with content fidelity and copyright protection.
| | | |
| --- | --- | --- |
| | | Liu Chuanzhi is the founder of Lenovo, the second largest computer maker in the world. |
| | | |
| --- | --- | --- |
| | | Robin Li, founder, board chairman and CEO of Baidu. |
| | | |
| --- | --- | --- |
| | | Charles Zhang is the Founder, Chairman and current CEO of Sohu.com Inc. |