"Huangshan (Yellow) Mountain/Jiuhua Mountain/Taiping Lake/Hefei "Classic 6-day tour
Route summary
Visit Huangshan (Yellow) Mountain, a "World Cultural and Natural Heritage site" and one of China's top ten scenic areas, boasting many attractions;
Visit Jiuhua Mountain -- one of the top four Buddhist holy sites in China and an ashram of Ksitigarbha (Bodhisattva of Salvation), watch the snow scene, climb the snow mountain and appreciate the Buddhist world;
Visit Taiping Lake -- "the lover of Huangshan Mountain" by boat;
Visit Hefei -- a time-honored city with a history of 2,000 years, one of the top 4 garden cities in China and one of the top 4 science and education bases in China;
Taste local food -- Jiuhua Mountain vegetarian feast, Taiping Lake fish feast, Anhui delicacies and a Yixian farmhouse meal;
The distance between attractions is short. All the destinations are reachable via expressway making the trip a relaxing experience;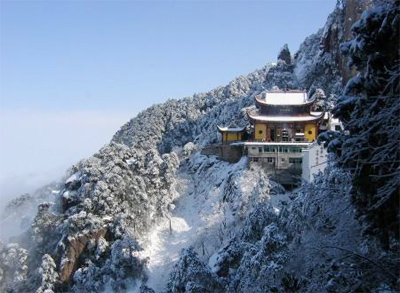 Jiuhua Mountain covered in snow
Itinerary
Day 1 Hefei/Jiuhua Mountain
Get picked up from the hotel and taken by bus to [Jiuhua Mountain] – one of the top four Buddhist mountains. "One thousand temples on Jiuhua Mountain are scattered in the clouds". Here the snow flies tantalizingly, dancing like catkins in spring. Go up the mountain by cable car, reaching [Tiantai], visit Tiantai Peak, Ksitigarbha Cave, the Ancient Worship Sutra Platform and "A Thread of Sky". After watching the spectacular snow scene of Jiuhua Mountain, go down the mountain by cable car, to pay homage to Ksitigarbha Tomb - [Incarnation Hall]. At night, tourists may visit Buddhist cultural street -- [Jiuhua Street] by themselves.
Day 2 Jiuhua Mountain/Taiping
After breakfast visit Baisui Palace – one of the four jungles of Jiuhua Mountain. Baisui Palace, also known as "Huguo Wannian Temple", has had the golden statue of the Dharma body of Wuxia Buddhist monk enshrined in it for nearly four centuries. visit 500-Arhat Hall for a glimpse of the natural sleeping Buddha statue. Pay homage to the founding temple -- [Huacheng Temple] and the largest and best preserved temple -- [Qiyuan Temple]. Jiuhua Mountain is a world of snow and ice and brings you into a pure, white and elegant world. Go to Taiping, visit [Taiping Lake] on boat, watch the beautiful lake scenery surrounded by the snow-covered mountains, and have a Taiping Lake fish feast as dinner.
Day 3 Taiping/Huangshan Mountain
Go to [Huangshan Mountain] by bus after breakfast. Go up the mountain by cable car from Taiping, visit West Sea scenic area and North Sea scenic area.
Day 4 Huangshan (Yellow) Mountain/Tunxi district, Huangshan city
Watch the sunrise from your vantage point on the Huangshan Mountain, visit Bright Summit Peak scenic area, Heaven Sea scenic area and Jade Screen scenic area. Guests will have time to appreciate the silent beauty of pine trees covered in snow, mist strewn grass, and icicles hanging from every surface, as if in a world of crystal coral. Go down the mountain by cable car. Visit a village largely untouched since the Ming and Qing dynasties [Hongcun Village], before going to Tunxi by bus to spend free time on [Tunxi Old Street].
Day 5 Tunxi district, Huangshan city
Go to Shexian to visit [Tangyue Archway Group] and go to Jixi to visit [The Hu-Family Ancestral Hall in Longchuan]. Return to Tunxi.
Day 6 Tunxi/Hefei
Return to Hefei after breakfast and visit Hefei Binhu New Area, [Baogong Memorial Temple] -- a place in memory of the honest and upright official Bao Zheng, who lived during the Northern Song Dynasty. Then visit [Ancient Crossbow Platform]. Enjoy some free time on [Huaihe Road Pedestrian].
End of the trip.
(chinadaily.com.cn)