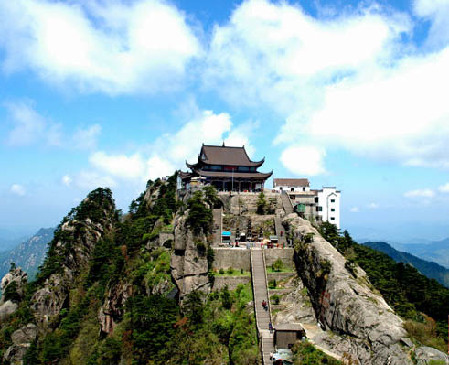 Tiantai Peak of Jiuhua Mountain

 Admission ticket price:
  190 yuan at peak season (Mar 1--Nov 30)
  140 yuan at off-peak season(Dec 1--Feb 28)


 One-way ticket price for Tiantai cable car:
   75 yuan


 One-way ticket price for Baisuigong cable car:
   55 yuan


 Tel: 
   86-566-5578-928


 Website: 
   http://www.jiuhuashan.cc/

Jiuhua Mountain, which was formerly called Jiuzi Mountain, is located in Qingyang county, Chizhou city, 20 km southwest of the county seat. It covers an area of 120 square km. With connected mountain peaks and various unusual stone formations, Jiuhua Mountain consists of 99 peaks, numerous brooks, waterfalls, secluded caves and strangely-shaped pine trees. All of these contribute to the fresh and natural landscapes.

Combined with natural wonders, including a sea of clouds, gorgeous sunrises, frosty mists, and flammule, Jiuhua Mountain is a majestic sight in all its variety. It is known as the most beautiful place in the area south of the Yangtze River. It is among first group of the national key scenic areas approved by the state, as well as a national 5-A level tourism zone.

Jiuhua Mountain is a famous historical and cultural mountain. More than 20 academies of classical learning have been successively established here since ancient times, including the Taibai, Teng Zijing and Yangming academies. There are over 2,000 extant cultural relics, and here too you can find 500 or so poems and essays by famous writers and scholars from all previous dynasties. Among these, you will discover some rare treasures, including the Patra-Leaf Sutra of the Tang Dynasty (618-907), the Tripitaka Sutra and Blood Sutras (written with blood drawn from the authors' fingers) of the Ming Dynasty (1368-1644), the imperial decree of Emperor Wanii in the Ming Dynasty (1563-1620), and handwritten manuscripts by Emperors of Kangxi and Qianlong of the Qing Dynasty (1616-1911).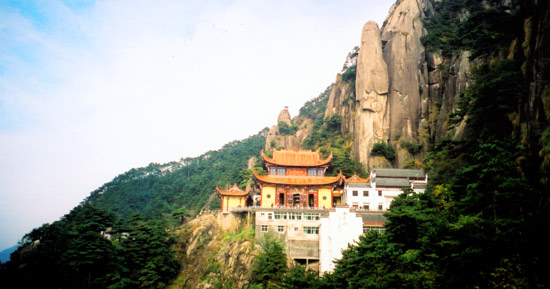 Incarnation Hall
With its numerous ancient temples, Jiuhua Mountain is one of the four great Buddhist Mountains in China. Of the 99 extant temples, nine are at national key level and 30 are provincial key sites. Jiuhua Mountain has over 1,000 monks and nuns and more than 10,000 Buddhist statues preserved from all previous dynasties, hence the name the Land of Buddha with Lotus Flowers. Thanks to the strong and mysterious atmosphere of Buddhism and the wide-ranging and profound Ksitigarbha culture, it has attracted tens of thousands of visitors both from home and abroad, and remains an important international center for the performance of Buddhist rites.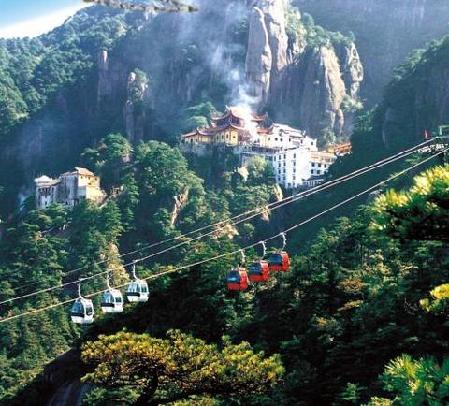 The cable car of Jiuhua Mountain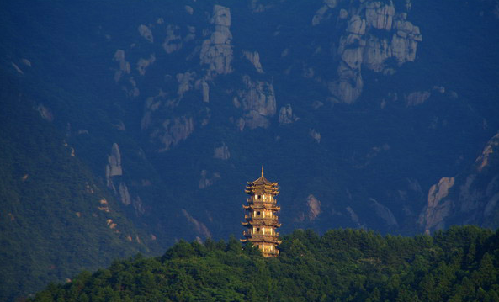 Wanfo P

agoda
Source: Anhui Travel Guide