Admission ticket price:
  230 yuan at peak season (Mar 1--Nov 30)
  150 yuan at off-peak season (Dec 1--Feb 28)


 One-way ticket price for cable car:
  80 yuan at peak season (Mar 1--Nov 30)
  65 yuan at off-peak season (Dec 1--Feb 28)


 Tel: 
  86-400-8899-808; 86-559-2580-880


 Website: 
  http://www.tourmart.cn/english/default.htm
Click here to Watch the video of Huangshan Mountain
Situated at the confluence of Shexian, Yixian and Xiuning counties, Huangshan Mountain covers an area of about 1,200 square km, the highlights of which occupy 154 square km. It is a landform typical of Mesozoic granite. Its highest peak, the Lotus Peak, rises 1,864 km above sea level.
Officially designated as one of China's top 10 scenic spots, it has charmed countless number of tourists from home and abroad. Huangshan Mountain can be regarded as an amalgamation of all the merits of other mountains: grand, steep, picturesque, and with a rich cultural heritage. Xu Xiake, a well-known geographer of the Ming Dynasty (1368-1644), once said, "When I have visited Huangshan Mountain, I don't even wish to visit others."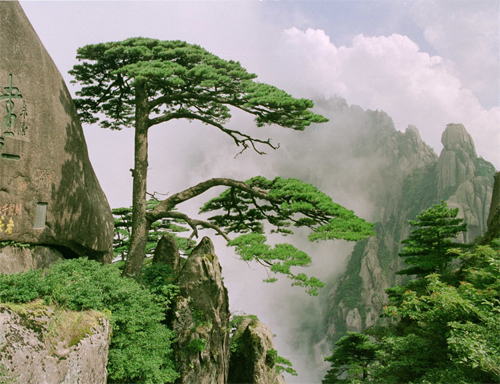 Guest-Greeting Pine
Blessed with a mild climate, Huangshan Mountain presents different scenery in four seasons. Its "four major marvels" are the uniquely shaped pines, oddly-shaped rocks, seas of clouds and hot springs, all of which are well known both inside and outside China. The abundant remains of glaciers and water resources, a geological structure unique to Huangshan Mountain, have produced such natural wonders as the Kuzhu Brook, Xiaoyao Brook, Renzi Waterfall, Baizhang Spring, and Jiulong Waterfall.
In addition, thanks to a complicated natural environment, Huangshan Mountain has a well-balanced ecosystem, thus becoming renowned as "a natural zoo and a botanical garden extremely rich in plant varieties".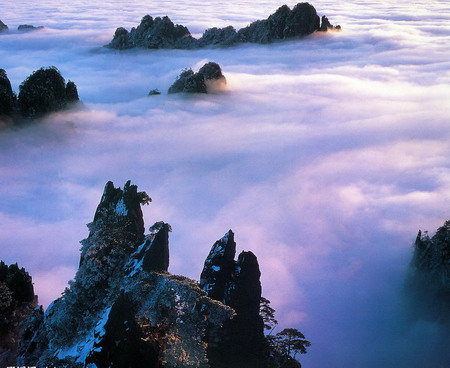 The reason why this mountain is so well-known throughout the world is not only because of its natural beauty but also due to its time-honored culture. According to Huangshan Mountain Historical Records, Buddhism was introduced to Huangshan Mountain as early as in the Southern Dynasty (AD 420-589); and some 100 Buddhist temples were subsequently built in the mountain, including the Xiangfu Temple, Ciguang Temple, Cuiwei Temple and Zhibo Temple, which are so famous that they are known as the "four major temples in Huangshan Mountain".
In 1990, Huangshan Mountain was placed on the World Heritage List by the UNESCO. The year 2004 saw it rated as one of the world's geo-parks, and in 2007 it was included in China's first batch of AAAAA class tourism zones. Furthermore, it has been granted some other honors, such as a national key scenic area, a national forest park, and a national geological park. In fact, the natural and cultural tourism resources, all extremely abundant and colorful, have made this mountain a famous tourist attraction not just for Anhui but for the whole country at large.