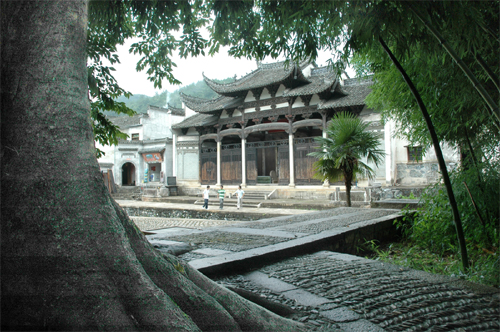 Hu-Family Ancestral Hall
The Longchuan Hu-Family Ancestral Hall resides in Dakengkou village, 12 kilometers east of Jixi county in Anhui province.

 Admission ticket price:
  58 yuan/person

It is a family ancestral hall for both Hu Fu and Hu Zongxian, two high-level officials who served in the Ming Dynasty. The hall was first built in the Song Dynasty (960-1279) and was later extensively renovated in the Ming Dynasty (1368-1644). Hence, the hall has many distinct features of Ming architecture, which has gained it a place among other traditional Chinese architectures. Its rich cultural inference never fails to amaze its visitors. Zheng Xiaoxie, a famous architect, remarked it as a national treasure after paying a visit to the hall.

Sitting in the north and facing south, the hall covers an area of 1,146 square meters. There are seven constructions in three rows, all built on a brick and wooden structure.

The hall is magnificent in appearance. Built in the front row is a tall, arched gate with a double-eaved gable and hip roof. Behind it is a corridor encircled with 12 square, stone columns. The central hall is located in the middle row of constructions with 14 round columns 166 centimeters in diameter and 21 large and small girders. Built in the back row is a two-storied sleeping hall. The girders and columns in the ancestral hall are all engraved with various patterns of superb craftsmanship, including human figures, birds, beasts, insects and fish.

The hall, reputed as the art palace of wooden carvings, is a precious legacy to Anhui School of architecture.