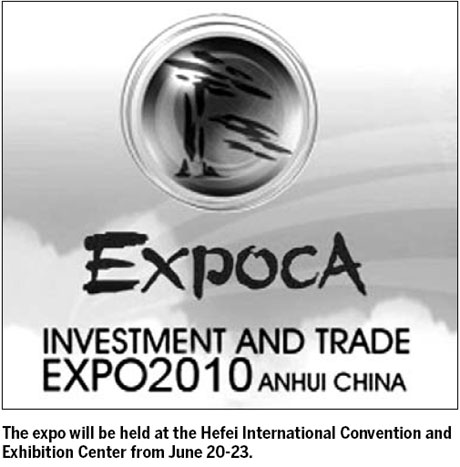 Today, the authorities in Anhui are moving to revive the millennium-long traditions of Hui merchants, aiming to create new legends in economic growth.
One of the initiatives is the International Huishang Conference annually held in Hefei, capital of Anhui province.
This year, the event will enter its sixth session. Sponsored by the Anhui provincial government and organized by the Anhui bureau of commerce and Hefei city government, it will be held at the Hefei International Convention and Exhibition Center from June 20-23.
About the Expoca

 Time: June 20-23, 2010


 Venue: Hefei, Anhui


 Sponsor: The People's Government of Anhui Province


 Website: 
 http://www.ahtrader.com/english/

With the official name of China Anhui Investment and Trade Expo, the event is also the most important fair for trade and investment promotion in the province.

According to statistics released by the event's organizing committee on June 3, more than 2,600 representatives from businesses at home and abroad have confirmed they will participate.

Businesspeople will attend a high-profile forum on topics relating to Anhui's economic development.

This year, a hot topic is "welcoming industries from the east" as a great number of companies in China's developed coastal regions move to relocate their manufacturing operations inland.

Investment promotion, trade talks and product exhibitions, technology and services are also the major parts of this year's event.

Anhui's authorities also expect to use the venue to make the province's history, tourist attractions, recent economic growth and business opportunities known to the world. (By Zhao Shijun)

More info on Hui merchants:

Brief history of Hui merchants

What do Hui merchants conduct?

What shapes the Hui merchants?

Confucian Philosophy and Hui merchants

Education and close relation with bureaucracy