China bolsters UNICEF Lebanon refugee education fund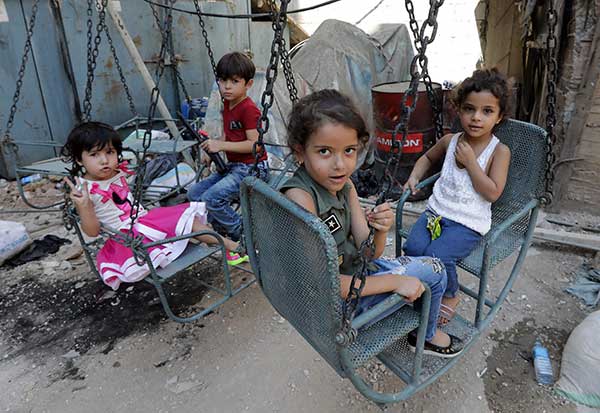 Syrian refugee children play on a street in a refugee camp on the southern outskirts of the Lebanese capital, Beirut.[Photo/Agencies]
Within the context of its program to support vulnerable Lebanese communities and Syrian refugees in Lebanon, the United Nations Children's Fund is supporting the Lebanese public education system through funds from global donors, prioritizing the enrollment of Lebanese and non-Lebanese school-aged children into formal public education.
UNICEF notes that funds from the government of China have contributed to raising awareness of the importance of education and improving the quality of education through the provision of school supplies and teacher training.
Chinese-funded educational supplies were distributed in October to around 86,000 Syrian refugee students in Lebanon by Chinese Ambassador to Lebanon Wang Kejian, who was joined by Lebanese Education Minister Marwan Hamadeh and UNICEF representative in Lebanon Tanya Chapuisat.
The donation was made through Lebanon's Reach All Children With Education campaign, an ongoing collaborative effort between the Lebanese Ministry of Education and the United Nations.
Wang says that the Chinese donation, which expressed China's sympathy and support for the Syrian refugees, was aimed at helping Lebanon deal with the refugee crisis.
"We truly wish for the return of the Syrian refugees to their homeland with the acceleration of the political solution process in Syria so that these refugees can live in a secure, peaceful and prosperous atmosphere," the Chinese envoy says.
The Bar Elias Secondary School in Lebanon's Bekaa region was among the schools supported by UNICEF.
"If these schools did not exist, those children from the refugee camps would be left out in the streets. They are very poor and their families cannot afford an ordinary school education. These kinds of schools and programs are protecting these children from illiteracy and giving them the chance to study," says Sawsan Araji, the school's director.
Hedinn Halldorsson, communication specialist at UNICEF's Lebanon Country Office, says that UNICEF and the Lebanese Ministry of Education are providing free education for school-aged children all over the country.
"But the free schooling program is not enough to attract all the children to school, because there can be many issues hindering them from coming to school," Halldorsson says if a family is not able to secure basic food needs, many children may be forced to work instead of attending school.
"There are so many areas we need to look at. We need to look at healthcare, access to drinking water. We need to make sure that children are in good enough health to attend school," Halldorsson says.
He adds that for 2018, various donors and countries helping UNICEF and different ministries in Lebanon have pledged financial support to maintain aid for vulnerable Lebanese communities and Syrian refugees, but the funds are drying up due to a drop in donors and falling interest from the public.
Xinhua