Shanghai hospital banks breast milk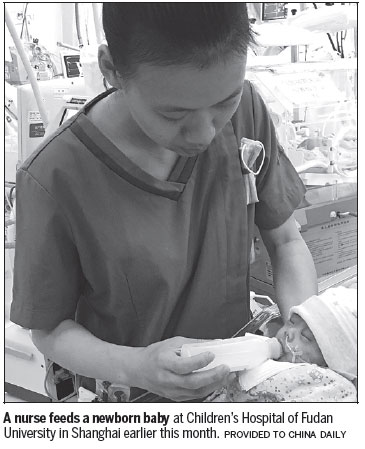 Premature babies at a Shanghai pediatric hospital's neonatal intensive care unit will no longer be fed infant formula. Instead, they'll get breast milk from their own mothers or donated by others.
The Children's Hospital of Fudan University has established, for the first time in the city, a breast milk bank especially for newborns in the ICU.
During trials in recent months, 25 mothers donated more than 200,000 milliliters of breast milk to the bank, benefiting 32 premature infants, the hospital said.
"Premature babies in intensive care are either those born with very low weight or serious conditions. They are especially vulnerable," said Cao Yun, director of the hospital's neonatal ICU.
"Currently we only call on mothers whose children are also in the ICU to donate spare milk, as the ingredients of breast milk vary and the breast milk of premature babies' mothers is different from that of full-term babies' mothers," she said.
Previously it was common practice for all premature babies to be fed with infant formula either for convenience or because their mothers were not able to secrete enough milk. But breast milk is extremely important for premature newborns, especially the most vulnerable ones, Cao said.
"Breast milk is the best food and sometimes a lifesaving medicine for such babies, who haven't developed fully in their mothers' wombs," Cao said.
"The incidence of acute necrotizing enterocolitis - an inflammation of the small intestine - is high among preterm newborns, especially those with a birth weight of less than 1.5 kilograms, and the condition is fatal in some cases. Breast milk can reduce it significantly."