China's teeth have room to improve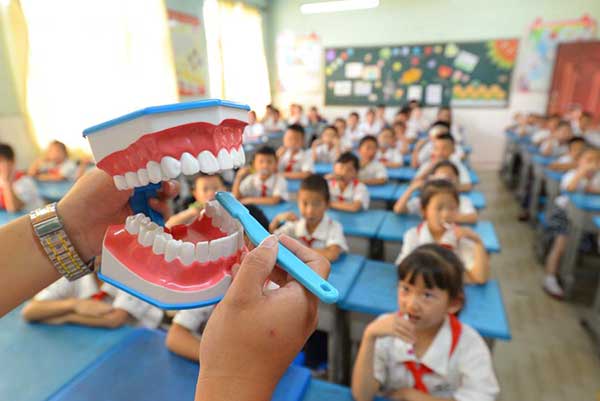 Chinese people's awareness of oral health has been greatly enhanced in the past 10 years, especially among children and the elderly, a survey released on Tuesday found.[Photo/Xinhua]
Awareness of oral hygiene up, but twice-daily brushers still low
Chinese people's awareness of oral health has been greatly enhanced in the past 10 years, especially among children and the elderly, a survey released on Tuesday found.
The results of the fourth national oral health epidemiological investigation were announced by the National Health and Family Planning Commission on Tuesday.
The investigation, undertaken in 2016, surveyed 172,000 people of different ages in 31 provincial regions of China.
It found that a few more people have cultivated good habits in taking care of their teeth, compared with past surveys. More than 30 percent of 12-year-old children and 36.1 percent of adults surveyed said they brushed their teeth twice a day in 2016. That's up from 28 percent for 12-year-olds and 32 percent for adults in 2007.
More children have received counsel from doctors about their oral health habits, as well as examinations and treatment.
Children are at high risk of tooth decay because of high sugar intake and insufficient oral care, data show. The World Health Organization considers 1.2 or fewer cavities - also called caries - in the teeth to be low incidence.
According to the investigation, the average number of cavities for a 12-year-old Chinese child in 2016 was 0.86 - below the WHO threshold and lower than the 1.2 cavities in the United States and 1.4 in Japan. China's cavity count was less than half of South Korea's average of 1.8 for 12-year-olds.