New curriculum, text books as Chinese schools start academic year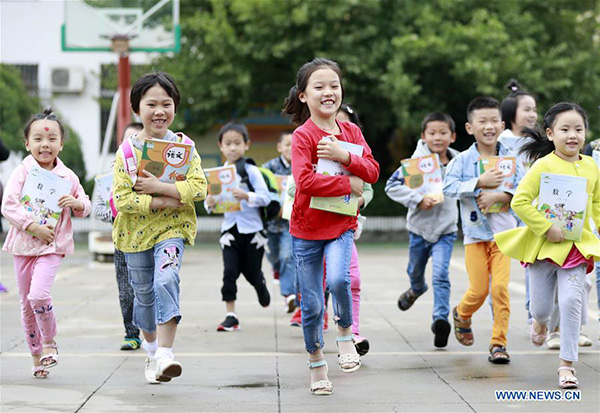 Children run after getting new textbooks at Xuyi Shiyan Primary School in Xuyi County, east China's Jiangsu province, Aug 30, 2017. Schools in China opened recently after summer vacation. [Photo/Xinhua]
BEIJING -- As millions of Chinese students entered new primary and middle schools on the first day of the academic year on Friday, they received newly-edited books and a new curriculum, adjusting the educational emphasis toward different subjects.
Yi Mide, a grade one student in the No. 2 Primary School of Qigong Street, Shenyang, capital of northeast China's Liaoning province, said he did not have English on his curriculum like older students, but had science, which was new to grade one students.
Less English
Previously, studies of Chinese and English had the same weighting, and Chinese students started English study from grade one in primary schools.
The revised curriculum followed a slew of reforms announced by China's Ministry of Education last year on the National College Entrance Exam, or the gaokao, asking universities not to base their judgement of applicants solely on the gaokao scores of three major subjects -- math, Chinese and English -- but take consideration of selective classes as well as evaluations of morality, physical health, art cultivation and social practices.
English will now not begin before third grade.
"It is not necessary to start school study English language with too much emphasis on grammar and spelling," said Zhu Lamei, an English education researcher in Wuhan Education Science Institute in central China's Hubei province.
She said that juniors could access a large number of English-language picture books as well as video and audio products on the market.
Jiang Rui, an English teacher at the No. 2 Primary School in Qigong Street, Shenyang, said junior students were likely to be confused when they started the study of both the English alphabet and Chinese phonetics from grade one.
"I think it would be good for students to start the school education of a foreign language from grade three, after they have a solid foundation of their native language in the first two years of their primary schools," Jiang said.