Thanks, Mike, for showing us how to live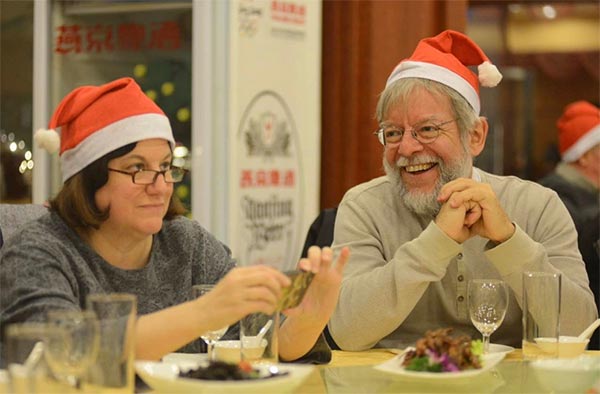 China Daily writer Mike Peters (right). [Photo provided to China Daily]
The China Daily community is feeling a huge hole in its soul right now.
Our beloved food writer, Mike Peters, passed away Thursday afternoon after a short battle against pancreatic cancer at age 62.
Mike had been at China Daily for about eight years, but he touched many lives during that time. His influence went far beyond our newsroom.
He was highly regarded in the food and hospitality industry in Beijing and other parts of China. He was known in the diplomatic community. A benefit organized for Sunday has brought out an outpouring of generosity and support.
In other places he lived, such as Dallas and Anchorage in the United States, he also touched lives. The outpouring of sympathy and contributions toward his care has been nothing short of astounding.
But to understand where all this comes from, you have to understand Mike. His was the epitome of a life well lived. He knew food and wine, and spent years telling the world about the sophisticated offerings in his adoptive country. He nurtured younger staffers writing about the subject.
He did it with such class and geniality. He had a droll and intelligent sense of humor that was disarming. He was unfailingly kind and generous, always inviting friends to a special restaurant or event he had discovered.
Photos that his friends treasure include the quintessential Mike enjoying a fine glass of wine, but also Mike in a Santa hat, Mike singing a duet or posing with a Mongolian singing troupe, Mike with a smile on his face, as if he were sharing a private joke.
Friends remember the goodies, such as chocolate, coffee or wine, that he would leave at their door. They remember how puppies and children were drawn to him. Even one of Mike's excellent doctors at China-Japan Friendship Hospital and her son formed a bond with him. She said, holding back tears, "My son asked me if grandfather will be in the hospital when he goes to be with God. I told him no, that there, there is no hospital."
Mike has often been described as the glue holding together the expat community at China Daily. But he had very close Chinese friends. Many of his Chinese colleagues brought him flowers and treats during his illness.
All this came home to me when I visited him the evening before he lost consciousness. By then, a stroke had made speech difficult, but he wanted to talk about his worries over what would happen when he was no longer here. He wanted to live long enough to celebrate a close friend's birthday. Even in that moment, he was still concerned about others.
He helped make us a family, one that has grown to include his parents and brothers in Houston in the US. That was Mike. He taught us how to live through his example, and he will not be forgotten.
Services are scheduled at 1 pm on Friday at the China-Japan Friendship Hospital, Taipingjian hall, 2 Yinghuayuan East St, Chaoyang district. Go to the hospital's north gate at Jian'an East Rd. Sunday's benefit is 3 to 6 pm at TRB Copper, No 13 Compound, Nafu Hutong, Dongcheng district.