Foreigners get a taste of China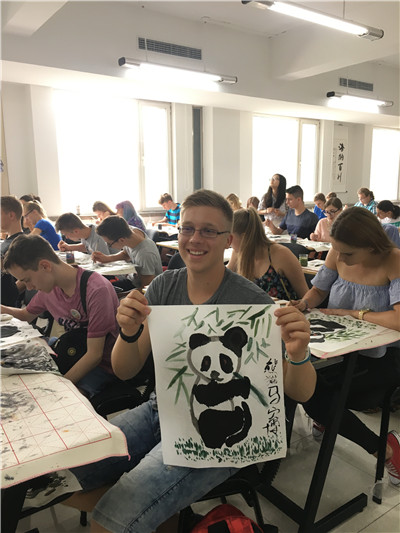 Hungarian student Fekete Marcell Zoltan shows his ink painting at the summer camp. [Photo provided to China Daily]
A Beijing summer camp turns into a melting pot of different cultures.
"Do not use much water, or else the panda you draw will become very fat," a Chinese painting teacher says in Chinese.
Immediately, the same words in English, Polish and Hungarian are delivered to students in the classroom.
Filled with the sounds and rhythms of different languages, the Chinese painting classroom is a melting pot of different cultures.
This classroom offers a glimpse of the experience at the "You and Me, In Beijing" summer camp organized by Beijing Foreign Studies University's Confucius Institute from July 15 to 25.
Students from Belgium, Bulgaria, Poland, Hungary, Italy, the United Kingdom and South Korea gather to learn Chinese and experience Chinese culture.
"China is developing greatly, and it is important internationally," Hungarian student Fekete Marcell Zoltan says in fluent Chinese.
When the painting teacher gives instructions, he helps translate the words into Hungarian for his classmates.
After finishing the panda painting, Fekete writes his Chinese name, Ma Hongbo, on traditional rice paper.
Fekete is from Budapest and has learned Chinese for eight years at the Confucius Institute at Eotvos Lorand University.
"Now a lot of people are learning Chinese," says the 15-year-old, who wants to be a diplomat in China.