Man leads by example to protect Gansu's pastures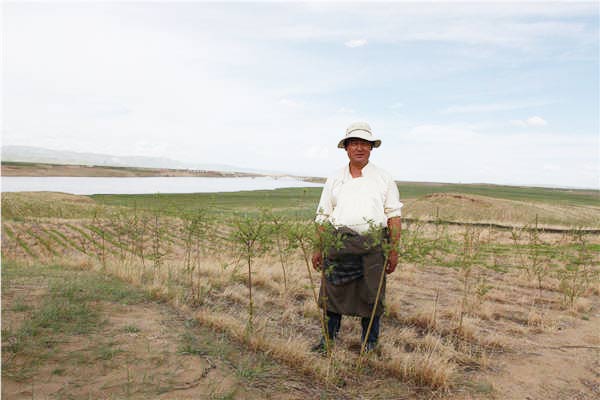 Drolma Gyalpo is devoted to the fight against desertification in Maqu county, Gansu province. ZHANG LIYA/ FOR CHINA DAILY
Drolma Gyalpo has spent most of his life protecting the environment of the grassland where he lives.
He has been collecting trash since 2003, and started planting trees and grass to counter desertification since 2014.
"When the yaks and sheep mistakenly eat plastic bags, they die," says the 51-year-old. "When there are too many such items, the grassland dies, too."
Drolma Gyalpo was born in 1966 in Maqu county of the Gannan Tibet autonomous prefecture in Gansu province.
He used to be a herdsman, and his family kept 1,000 sheep and 200 yaks. In recent decades, he says he noticed that increased human activity brought a lot of trash to the area, plus the overgrazing was turning the grassland into a desert. So, he asked fellow herdsmen to pick up the trash, but few understood his point in 2003. Then, he decided to take the lead.
"Even family members were not happy at first because he spent 1,000 yuan ($146) to buy tools and bags to pick up the trash," his son, Samten, says.
Drolma Gyalpo started with his family's designated 1.3-square-kilometer grazing area. It was hard work but brought rewards soon-the grass on his grazing patch was greener and the cattle became healthier. Seeing the benefits, other herdsmen started to follow him in cleaning their grazing areas.
The annual cleanup of the grassland has become a routine for Drolma Gyalpo and all the herdsmen who live in Maqu's Daerqing village in March.
The trash is gone, but the problem of desertification stays as people still raise yaks and sheep.
"The increase in cattle population has put pressure on the grassland," Drolma Gyalpo says. "We shouldn't just see the money at present. What will we do if the grassland disappears?"
In 2011, Drolma Gyalpo sold all his sheep, investing the money into his fight against desertification. He first founded a company that makes and sells fences, so that herdsmen can keep their cattle within a certain grazing area, and rotate the area between seasons to let the grasslands recover.
He also bought saplings and seeds, and start to plant them in the areas where the grass had degraded.
"One sapling costs 4 yuan, and a bag of grass seeds costs 400 yuan," says Samten, adding that they have invested more than 60,000 yuan in grassland conservation in the past years.
He has joined his father's cause.
Over the years, Drolma Gyalpo's dedication to grassland protection has inspired more people to do the same. Since 2014, together with friends and relatives, he has planted more than 3,000 saplings and sown some 2,000 kilograms of seed along the Yellow River that runs through the grasslands in Maqu.
He was voted to be a deputy of the Maqu county people's congress, and made several proposals on combating grassland desertification.
According to a report in Gansu Daily in January, Ma Jianyun, the deputy director of the county's animal husbandry bureau, said that the county was testing some of Drolma Gyalpo's methods and techniques of planting trees and grass, and would promote them if the test was successful.
"It is not one man's fight," Drolma Gyalpo says. "The stronger we are, the greener our grasslands will be."