Less is more: Learn from minimalists and benefit environment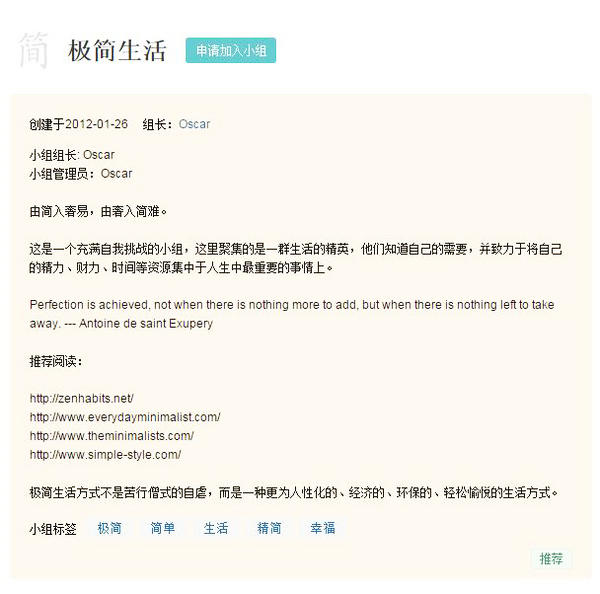 The group "Minimalist Life" on Douban. [Photo/Screenshot of douban.com]
When I joined a new group called "Minimalist Life" in 2012 on Douban, a major Chinese arts and culture portal, there were only few members.
A Tianjin-based Douban user, Oscar, established the group that year and tried to share things about minimalism. Many users were inactive and rarely commented or posted in the group.
Soon I got bored, ditched it and forgot about it. Until recently when I checked the group and discovered that it had undergone a major change. Bigger than what I could have guessed in 2012.
There are now more than 63,000 users and many of them are active, posting their experiences of trying to be a minimalist.
They share their stories of their histories of crazy shopping habits and stocking useless things.
In the 276 pages of postings in the group, there is a distinct increase of the number of postings from 2014.
This change is not a unique phenomenon. In fact, more advices and tips on how to lead a simpler life are being shared on social media, such as WeChat Moment and Weibo.
What's more, stories about some famous minimalists are widely spread on the internet, include about Steve Jobs who always dressed in a black T-shirt.
Many people who try to change their lifestyles claim they were affected by the book, Danshari, written by a Japanese writer Eiko Yamashita.
Introduced in China in 2013, the book tells people how to have a correct attitude towards material things. And more importantly, the author wants to let people break their unhealthy relations with other people that were often embedded in their strong emotional attachment to material things.
However, not many know that minimalism is not a new thing in traditional Chinese culture.