Taking college entrance exam again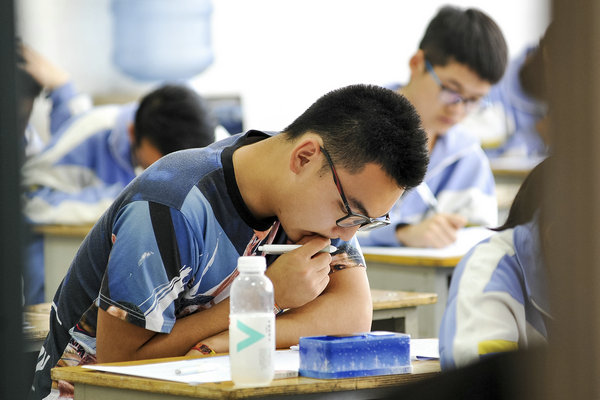 Students prepare for the national college entrance examination in Tianshui, Gansu province.[Photo/VCG]
To study at elite Chinese institutions such as Peking University and Tsinghua University is the dream of many students taking the upcoming annual national college entrance examination. But two young people spurned that chance, when they discovered it wasn't quite what they expected.
Two years ago, Zou Yingjie and Wang Chenqi, both from Wuhan, in Hubei province, dropped out of Peking University and Tsinghua University, respectively, after they found that they had no interest in their majors. They sat the college entrance examinations again last year and later were admitted to Peking University to pursue new majors.
Taking the college entrance exam again is by no means new for under performing students. But Zou and Wang's actions have drawn both criticism and praise from the Chinese public.
Supporters applaud the two students for daring to chase their goals.But others say the attention is undeserved: These two students are grownups, entitled to make any life decision they want. Some criticize the students for being too capricious.
Dropping out of China's top universities is risky and may not have been worthwhile. Are they justified in going back for a second try at the national college entrance examination, just because they want to switch majors?
YES
Everyone has the right to choose the major he or she likes.
1. The education system doesn't allow most students to change their majors at will, so we shouldn't blame those who are willing to take a risk and retake the college entrance exams to pursue a better, more fulfilling career path.
2. The major a student chooses may probably decide the direction of his or her future career. If students don't like what they're studying, they won't make much of a contribution to that field. It would be a loss for the students personally and for society as a whole.
3. Many students dread the national college entrance examinations because it is seen as a make-or-break moment. But these two students prove that life is full of chances and changes. They serve as an example of the power of courage in changing lives.
NO
They have wasted educational resources and time.
1. The number of students those two top universities enroll is strictly regulated every year. By dropping out after studying for a period of time, these two students have actually wasted educational resources, which could have been provided to other applicants.
2. To drop out of university and take a second shot at the national college entrance exam is a risky decision. What if they had failed and couldn't go to their ideal university? Whether it's worthwhile to spend more years on the exam also remains questionable.
3. The two students wasted time and resources because they didn't think thoroughly about their majors when they first applied to go to college. Their actions should serve as a warning to other young people, instead of being seen as an admirable feat.