Keeping parents up to speed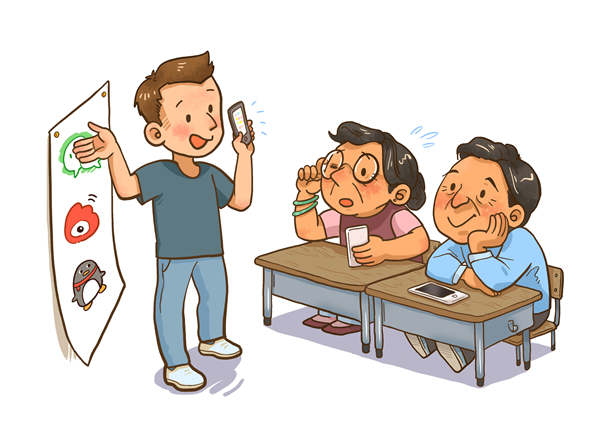 LIANG LUWEN/CHINA DAILY
Today's young people are reshaping traditional society, where knowledge was imparted by the old to the young, by helping the elderly enrich their lives with online technology, Xu Lin reports.
It took Zhang Zhijun and her husband a while to master the key functions of the instant-messaging app WeChat, following detailed photo instructions put together by their daughter.
They enjoy audio or video chatting with their relatives and friends who are at home and abroad via the popular Chinese social-media site. It's like opening a new door of the internet era for them.
"It's never too late to learn. The world is changing rapidly. If we don't study new things, we will be sifted out by the era in a few years," says Zhang, a retired 64-year-old middle school teacher.
Zhang and her husband are living with their daughter in Beijing so they can take care of their 6-year-old grandson in the daytime. At night, she has free time to enjoy solitude with her smartphone.
She's in some WeChat groups with her relatives and friends, so they can speak their minds freely and share news.
"Technology has reduced our distance in the real world. It's good to interact with them online. Even if we don't chat that often, I know about their recent news via their friend circles," she says.
"I'm very willing to know about new things. I can search on the internet for whatever I want to know about. It's also important to tell the true from the false, rather than believe everything online." As it's not easy to do that on the internet, Zhang keeps a critical mind and reads from multiple sources.
She's interested in Chinese history, health and cooking. She's already a good cook but likes to learn how to prepare new dishes, such as those from southern China.
Like Zhang, a growing number of older Chinese are trying to keep up with the new era and lead more colorful lives, mostly with help of their children, who are more comfortable with new technology.