Alternative fitness is outrunning the treadmill in major cities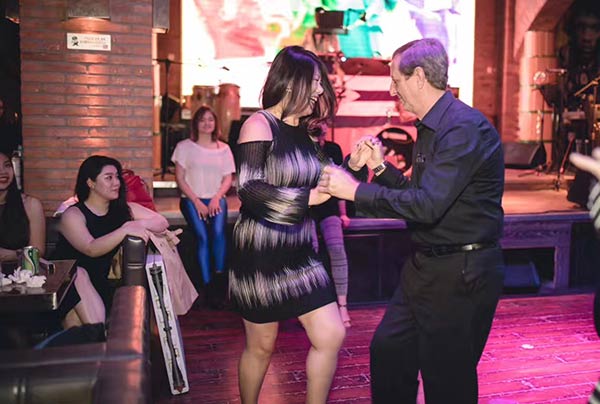 Xu Yanan (left), Sazon Salsa School's founder, dances with one of her students. Provided to China Daily
The workday is done. It's time to dance.
The rooftop of a Spanish bar in downtown Beijing became a dance floor for young Chinese after Cuban-salsa master Xu Yanan got the crowd moving on a recent Monday night.
"Salsa helps you relax," said Sazon Salsa School's founder.
"When you feel stressed, you can dance and drink."
Most of her students are office workers ages 20 to 40. Many have studied abroad.
Growing interest in after-work activities and foreign cultures and languages has propelled her business, which took off after a year of laying the groundwork.
"Our classes are fully booked," she said.
"And our school won appreciative recognition from the Cuban embassy."
Indeed, alternative fitness is increasingly competing with gyms in big cities.
Boxing, yoga and trampoline are outrunning the treadmill.
Fitness apps are also proliferating. Monthly active user numbers have been skyrocketing. It was 20 million in 2015 and is expected to exceed 70 million next year, a BigData-Research report said.
Keep has 80 million users, a quarter of which are active monthly, the app's branding director An Ran said.
It provides video tutorials, online shopping and discussion forums.
"Our tutorials on relieving pain and fatigue in office workers' shoulders, necks and waists are popular," An said.
"More people who are exposed to health and fitness content online are paying attention to their well-being."
About 1 percent of Chinese work out, compared with 15 percent of people in the United States. The US market is worth $27 billion - five times that of China, An said.
"China's fitness market offers great growth potential."