Sichuan cross-country runs set for May Day weekend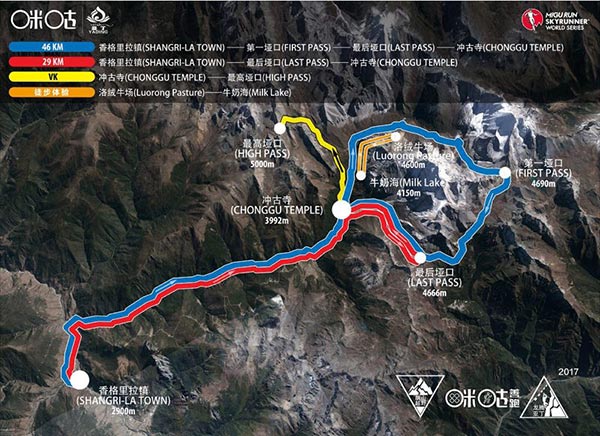 Runners will be facing challenging courses that range from 2,900 meters to 5,000 meters above sea level. [Photo provided to China Daily]
A series of cross-country running events will be staged in Yading, Daocheng county, Garze Tibetan autonomous prefecture, in Sichuan province from April 30 to May 2.
They include a 46-kilometer race, a 29 km race, vertical climbing and hiking experiences.
Runners will be facing challenging courses that range from 2,900 meters to 5,000 meters above sea level.
The goal is to enable global runners to experience China's grand landscape scenery, while Yading is well known for its virgin natural environment and spectacular scenery.
The running event was a joint effort between the Chinese company Migu Run and the Switzerland-based International Skyrunning Federation.
Skyrunning has held cross-country running events around the globe. The organization's name refers to the interface between the earth and the sky, and Yading was regarded as ideal venue for the event, given its superb mountain tracks.
More than 800 runners from 25 countries and regions will participate this year.
Last year's event attracted more than 70 professional runners from 22 countries and regions, including Iran, Italy, Mexico, Nepal and the United States.
Related:
It's all good: Any exercise cuts risk of death, study finds
Study finds 'weekend warrior' exercises help lower health risks