Modern diagnosis complements ancient therapies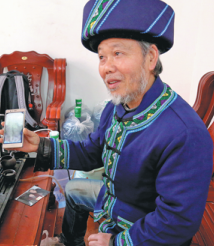 Yang Shaochen conducts a consultation via his smartphone.[Photo by Yang Jun / China Daily]
Many practitioners of traditional herbal medicine in Guizhou province combine their therapies with modern methods of diagnosis as they seek to further improve the treatments they offer.
Before he prescribes herbal medicine, Yang Shaochen, a practitioner of traditional Dong medicine in Kaili, a city in the province, asks patients to provide the results of hospital scans to aid diagnosis.
"It is important for us to be informed by modern technologies," said the member of the Dong ethnic group.
He added that comparisons of scan results before and after his therapies are applied often help patients to realize that treatment works: for example, if he treats a cancer patient and a subsequent scan shows that the tumor has reduced in size, or even disappeared completely.
He also uses modern medical theory as part of his treatment and has studied the human body to improve his services.
Yang's wife, who graduated from a regular medical school, has helped deepen her husband's knowledge of gynecology.
Yang uses the internet for consultations with patients, asking them to send photos of their symptoms as a diagnostic aid.
Wang Zengshi, who practices traditional Miao herbal medicine in Guizhou's Leishan county, has sent two of his children to medical school.
He has two daughters and a son, so he decided to send one of the girls and the boy to study Western medicine.
"Even though Western medical theories sometimes conflict with our practices, it is important to learn about the human body," he said.
Wang has a poor educational background, so he is unable to give the scientific names of many of the herbs he uses every day, and he hopes his son and daughter will be able to combine the knowledge they will gain from him with modern medicine to better treat their future patients.
"It takes a long time to learn about all the herbs used in Miao medicine. I have to teach the children from scratch and make sure they get the details right," he said.