Donor shortage threatens rare-blood carriers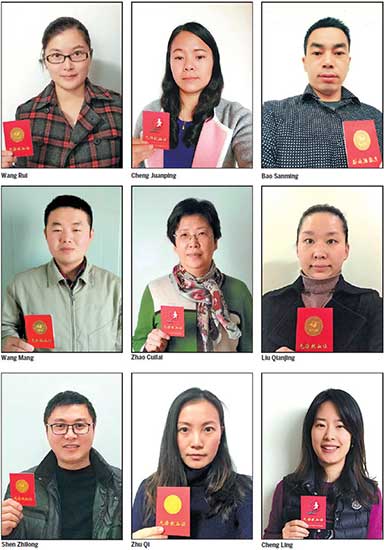 Volunteers proudly display their blood donation certificates. The China RH Union is looking for more donors to help the small number of people with rhesus negative blood in China.[Photo provided to China Daily]
Only a small number of people in China have rhesus negative blood, and a lack of supplies can be potentially life-threatening if they need an urgent transfusion. Zhou Wenting reports from Shanghai.
Xie Yingfeng recently quit his job to devote himself to an NGO that helps people with a rare blood type find donors who could potentially save their lives.
There are four human blood types: A, B, AB, and O. Each has a rhesus factor, either positive or negative. Generally, people with rhesus negative blood can only receive transfusions of their own type, while rhesus positive carriers can receive blood from both positive and negative donors.
Only three in every 1,000 Chinese has rhesus negative blood, so in the words of an old phrase they are "as rare as a panda", which has led to it being known as "panda blood". Moreover, many people have no idea whether their blood type is rhesus negative or positive until they need a transfusion.
The small number of people with rhesus negative blood means there is an equally small number of donors, which poses serious problems for people who require urgent transfusions, especially women who have postpartum hemorrhages.