Behind the scores: The dark side of film ratings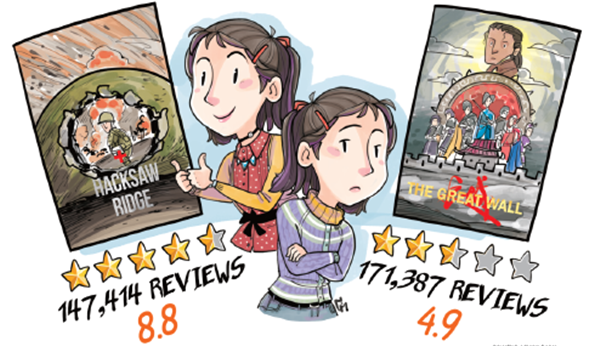 Cai Meng / China Daily
We're lucky to be living in a time when commenting on a film will not get one into political trouble, but the quality of film criticism and reviews has room for improvement.
In my capacity of a film critic, I was invited to several events at the end of 2016 - not only because it was a busy season for new releases, but because a furor was started about the nature of film criticism.
Some even said it was the biggest commotion concerning the role of film critics since the end of the "cultural revolution" in 1976. And I didn't know I had played a part in it.
When The Great Wall, directed by Zhang Yimou, and See You Tomorrow, produced by Wong Kar-wai, received predominantly negative reviews, some official media seemed to blame review sites for keeping audiences away and two of these sites, Douban and Maoyan, were said to be on the receiving end of official ire.
The truth, however, turned out to be more complicated.
It was true that the two movies disappointed many moviegoers, but the abrupt drop in audience ratings during one evening smelled fishy.
As An Yugang, who campaigned for See You Tomorrow, revealed, his staff experimented with posting positive reviews and high ratings on Douban, but no traces showed up. He seemed to imply that Douban was either being manipulated by hackers or bought outright by a competitor. (He refused to go into specifics when nudged.)
Douban is loved by millions of so-called wenqing - lovers of books, films, music and theater. They leave capsule reviews or long articles on the site. However, as its popularity has grown, its user base is no longer confined to wenqing and, according to some fans, the newly broad base means that meddling by hackers is more difficult to pull off.
The most infamous form of meddling is by the "water army", individuals who are hired by marketing firms to hype one film or, in some cases, to badmouth a rival that is released during the same week.
"Water soldiers", often new registrants, tend to give extreme scores, either highest or lowest possible, and write one-sentence reviews with lots of curse words. Since each "water soldier" is paid by the number of posts or clicks he or she leaves on the designated site, they tend to dilute the real sentiment but are unlikely to post full-length reviews.
That's why I generally ignore the ratings and railings and go right for the words of substance. For me, an extreme score not backed up with a good argument amounts to little, even if it comes from the heart, not a shady puppet-master's orders.
As for the government threat to shut down the independent review services, Zhang Hongsen, chief of the film bureau, a branch of the regulating agency, the State Administration of Press Publication, Radio, Film and Television, came out to explain that they did talk to Maoyan about expanding its base of reviewers, now comprising 69 critics, but they had never had any contact with Douban, which Douban's boss later confirmed.
Zhang wrote: "Creating and criticizing are two sides of the same coin. The improvement of filmmaking depends on a system of criticism that's based on integrity. One is not a real filmmaker if he or she rejects criticism; but criticism that's detached from facts and truth will have little effect."
Zhang's even-handed treatment was followed by a People's Daily opinion piece titled "China's film industry should have the open-mindedness to take low ratings", which confirmed the rights of critics and audiences to rate and review a film as they see fit. The Party mouthpiece, as it's often called by overseas media, had previously carried an article by China Film News, an industry publication, that accused the review sites of "harming the film industry" with artificially low ratings.
This was interpreted by some as the official stance, which angered some users who believed in the accuracy of the sites. It is the bad movies, they argued, rather than the low ratings, that harm the industry.
The objectivity of reviews and ratings contributes to the healthy development of the film industry or any other industry for that matter. Other than the interference of "water soldiers", enabled by commercial interests, pressures can take one of many forms.
Before I posted my mixed review of The Great Wall, there was little room for dissension and I knew I would offend those who hated Zhang or his movie. Articles had appeared with titles like "Unfriend me if you like The Great Wall", or, "I have tasted shit and why do you need to taste it yourself?" That kind of environment creates the duality of one-sided opinions and the seemingly contradictory uptick in box-office figures.
This is akin to saying "If you like Hitler, vote for Trump", which effectively silenced many Trump voters, but did not stop them from voting for him.
The urge to reach a consensus on issues of aesthetic taste, which are essentially individual choices, reflects a mindset rooted in moral clarity. You either love it or hate it. If you do not conform, you'll be considered abnormal. Cultural arbiters go around reinforcing the notion that there must be one correct answer when it comes to the interpretation or scoring of a film or other piece of art or entertainment.
This is exacerbated by internet technologies. Online, few have the patience to read a nuanced discussion about a film, helping headlines that scream extreme positions to stand out. I was surprised that my 4,000-character essay on The Great Wall got more than 300,000 views. Well, the editor changed my headline to something eye-catching and sensational, which I objected to at heart, but I went along anyway.
Talk about the allure of pleasing the crowd.
Maybe the review sites should learn a lesson from Taobao, China's e-commerce giant.
There you have to buy something and use it before you can post your review. It raises the value of both positive and negative feedback. Under no circumstances should a reviewer be restricted to one uniform viewpoint, but it may be important to include data from only those who have watched the movie in question, which, as I see it, should be sine qua non for assessing a movie.
Contact the writer at raymondzhou@chinadaily.com.cn