Building a connection with mother nature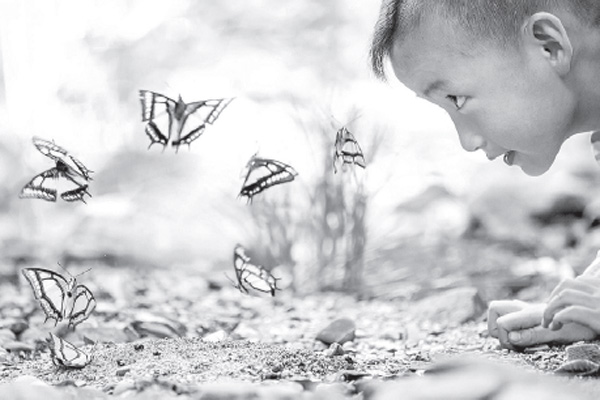 Qiqi often spend quality time with his father Wu Jinhai in the countryside learning about nature. [Photo/China Daily]
Chinese kids today are becoming increasingly interested in the natural world, thanks to the efforts of parents and educators who believe such exposure is necessary for a holistic learning experience during their growing up years
Climbing up the tree, lying on the grass to observe a butterfly emerge from its chrysalis and jumping along the ridges of farmlands are the most exciting childhood memories Wu Jinhai are trying to pass on to his son.
To get closer to nature, Wu even moved from an apartment in Hangzhou, Zhejiang province to run a guesthouse in Liangzhu New Town, a scenic spot in the countryside 16 kilometers from the city.
"I have always wanted to give my son a childhood full of freedom and excitement, which can be obtained by pursuing outdoor activities up in the hills, forests and along the streams," said Wu, who is also an insect enthusiast and a freelance photographer.
Every weekend since Wu's son Qiqi turned three years old, the father and son duo would head into the wilderness to chase the butterflies hovering above wildflowers.
Wu has since collected hundreds of butterfly specimens which are all displayed at his home. As a result of his upbringing, Qiqi has now left behind his shy disposition to become an outgoing and lively nine-year-old.
"Those trips have helped my son become more observant about nature, learn about the different lifeforms around us and express his unique understanding of them," said Wu, who now also works as a part-time teacher of natural science at a primary school.
Education experts say that children who grow up close to nature tend to be more creative and are more proactive in self-learning.
Wang Qingshi, an 11-year-old student of Beijing Shijingshan Yinhe Primary School, flew from the Chinese capital to Shanghai to attend the finals of the Global Natural History Day Competition 2016. Here, he showcased his unique methods of categorizing insects, winning the first prize for his efforts at the event.
As a child whose hobby is catching insects, Wang started carrying out research on the different shapes of insect feet after a cicada's foot was caught between the threads of his T-shirt about one year ago.
Together with a friend, Wang spent most of his leisure time catching hundreds of insects in Beijing, taking photos and documenting the differences between the feet of insects. He has now classified insect feet into four categories based on their shapes - double-hook, single-hook, stick-shaped and sucker hook.
Wang has even painted the feet of insects to create images, written journals and created interactive activities to show people how they can match insects with their different feet.
"I've learnt this aspect of insects that cannot be found in the textbooks and started thinking and conducting research independently to explore the natural world with creativity and curiosity," said Wang, who has a dream to become an entomologist.
Chen Hongcheng, Wang's tutor and a teacher at Beijing Yucai School, said that it is important and meaningful that kids today pay more attention to the world around them.
"Chinese parents are now making more efforts to expose their children to nature where they can exercise their curiosity and imagination, instead of being only concerned with examination results."
Another two participants in the competition, Zhang Yi and Yan Jiyao, shared their research results on birds at the competition in Shanghai. The pair of fourth-grade students attend the primary school attached to Southwest University in Chongqing.
"Birds are friends of us human beings. I want to explore how we can help them live and proliferate in nature with the least disturbance possible," said Yan, whose interest in birds developed after a trip to a bird park one year ago.