A billionaire philanthropist's passion for paying it forward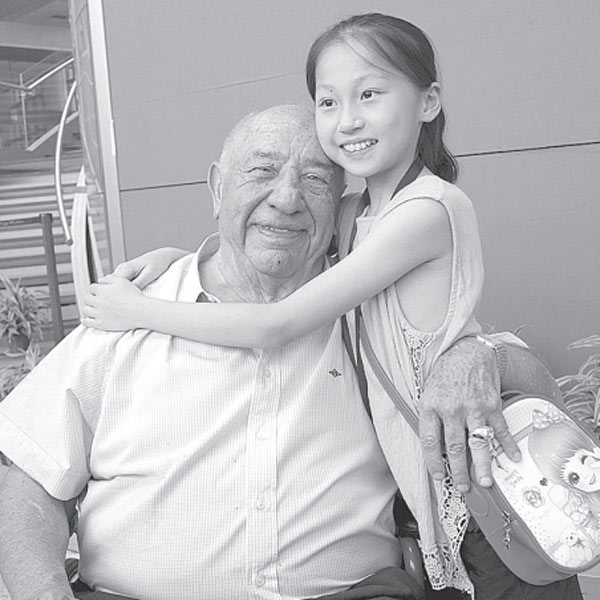 Kenneth E Behring visits China regularly to lend help to the needy. [Gao Eeqiang/China Daily]
For 88-year-old American billionaire and philanthropist Kenneth E Behring, donating animal specimens to museums all over the world is just one of the ways to help children explore the natural world.
Since 1997, Behring has donated countless specimens to the Washington-based Smithsonian Museum of Natural History and helped with the reconstruction of the Smithsonian's National Museum of American History.
Starting from 2003, Behring has also been donating animal specimens with values of more than $100 million to museums in dozens of cities across China, including Beijing, Dalian and Tianjin. Most recently, he also donated a total of 307 specimens from Africa, valued at more than $30 million, which were showcased during the opening of the Shanghai Natural History Museum in April 2015.
"I've donated specimens to museums as I believe they are platforms that can help educate, inspire and develop the future generations of public and private sector leaders around the world," said Behring, who has been working with world-class museums for more than a decade.
In addition, he is also the founder and chairman of the Global Health& Education Foundation, which launched Global Natural History Day in 2012, a competition that aims to teach natural history and sciences outside the classroom and to connect school children with their peers around the world. More than 7,138 students have taken part in the annual event which has expanded from the United States to Asia, including China.
"This event has encouraged children to articulate their findings after exploring the world, and this has changed their way of learning. Children get to conduct primary research and learn things that are not traditionally taught in schools," said Behring.
"We are trying to help young people think independently - wherever the problem is, don't go to the textbooks, you have to think and develop your mind in order to become a great leader in the future."
Philanthropic efforts
Behring is currently planning to take groups of children from different countries on a trip to the safaris in Africa as he believes such areas are the best for getting close to wildlife.
While he may be one of America's richest businessmen who owns his own private jet and the Seattle Seahawks, a team in the National Football League in the United States, Behring is also well-known for his philanthropic efforts, especially in China. The successful real estate developer flies in to China about four times every year to help the needy.
"I firmly believe that I was a Chinese in my previous life as I feel more comfortable in China than anywhere else in the world," said Behring.