Foot soldier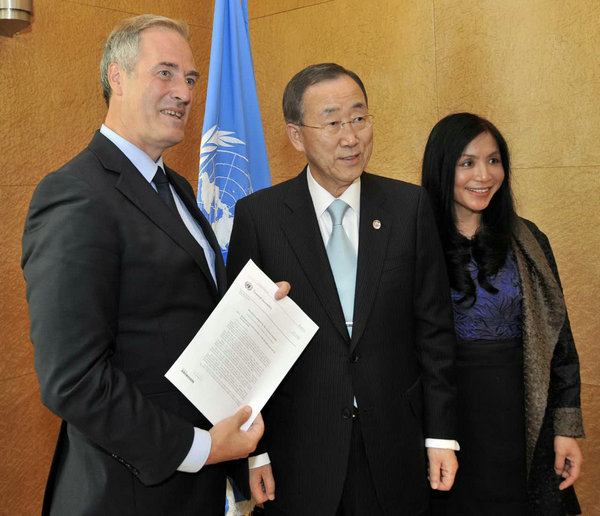 Michael Bates meets UN Secretary-General Ban Ki-moon in Geneva in October 2011. Bates was halfway through a 4,800-kilometer walk from Greece to London, calling upon countries to implement the Olympic truce.[Photo provided to China Daily]
Michael Bates has walked 12,000 kilometers in 23 countries to spread the word of peace. Xing Yi meets the former British minister in Beijing.
Lord Michael Bates claims he isn't a person who enjoys walking, because one needs to stay absolutely fit to do so regularly.
But in the past five years, the former junior home minister of Britain has visited 23 countries, covering more than 12,000 kilometers on foot.
He walks for peace so that understanding among different nations can grow.
"If I have a purpose, then I can go incredible distance," Bates, 55, says during a recent interview in Beijing.
Since 2011, he has used the summer recess in the British parliament, of which he is a member, to walk long distances, raising public awareness on various issues and collecting funds for various charities.
In March, Bates resigned from the British government to undertake a 115-day journey from Buenos Aires to Rio de Janeiro, calling on countries to implement the Olympic truce ahead of the Games in Rio in August.
His book Walk for Peace, based on a 71-day journey from Beijing to Hangzhou in 2015, will be published in China by the end of the month.
It will be partly in English and partly in Chinese. The walk was to commemorate the 70th anniversary of the end of World War II and to highlight the first UK-China Year of Cultural Exchange.
Setting off from the Temple of Heaven in Beijing on July 27, 2015, Bates hiked some 1,700 km to the eastern city of Hangzhou and raised $110,000 for the Red Cross in China.
In the book he writes about the kindness of the local people, his observations in different cities on the way, the beauty of the countryside and his thoughts on the cultural differences between China and his home country.
President Xi Jinping praised Bates for trying to spread the word of peace through his walking, during his speech to the British parliament last year.