Number of girls playing ice hockey on the rise
Hou Xintong said that what she loves the most about playing ice hockey is the crisp sound of her stick striking the puck.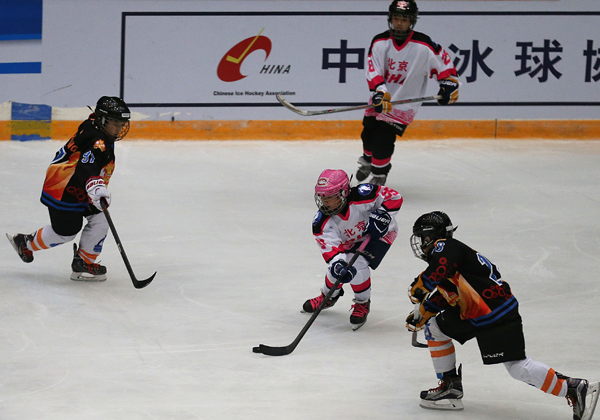 Members of Beijing's first girl's ice hockey team at a regular training session. [Photo provided to China Daily] 
It is hard to believe that the 12-year-old star forward of Beijing's first girls' ice hockey team could barely skate when she joined the team six months ago.
"I expect them to fight like boys in the rink and act like ladies when they take off their skates," said Wang Jing, head coach of the team, which was established in March.
Sponsored by the Beijing Hockey Association, the girls train together once a week free of charge. Earlier this month, the team competed in their first national tournament in the same stadium that will host the 2022 Winter Olympics ice hockey competition in Beijing.
The girls' pink jerseys stood out in a tournament where all the other players were boys. The team now has 30 players from ages 6 to 14.
"Almost all the girls that play ice hockey in Beijing joined the team. Anyone who is interested in ice hockey is welcome to play, including those who don't know how to ice skate," said Wang, the former captain of the Chinese women's national ice hockey team.
Some of the girls used to train with boys at their clubs, which means they didn't have enough opportunities to play in the games.
"I can see their confidence picking up as they play more together. You can tell that they are happy when playing ice hockey, because they simply play it for fun," Wang said.
In addition to ice hockey, Hou also enjoys her teammates' company. For the girls, even time spent together in the changing room is like a party.
"I've made many new friends on the team. Like other girls, I've become more brave since I began playing ice hockey," said 9-year-old An Yutong, who has been playing for three years.
At first, she was afraid to tackle, but it only took one game to change that. "We were competing in a game when our team only had six players, which meant I had to play, no matter what. I told myself I had to try my best to tackle because I couldn't let the team down," said An, who has become a key member of the team.
Hou said she once injured her arm during a game and was in pain, but didn't give up. "I had no time to cry. I had to keep going for the team."
Parents like An's mother, Hong Dan, said they are glad to see their children have become tougher through playing the sport. Hong originally took An to a figure skating class at an ice rink near their home, but An was fixated by the children playing ice hockey and couldn't take her eyes off them.
"Ice hockey may look intense and dangerous, but with protective gear it is actually quite safe, so I encouraged her to play," Hong said. She said ice hockey has gained popularity in Beijing as increasing numbers of families can afford the cost of equipment and lessons.
"Beijing municipal government said it will build an ice rink for each district to promote winter sports activities," said Li Mengyao, an official at the Beijing Hockey Association, adding that the association plans to create more tournaments that are suitable for girls.