Officials ridding county of 70-year duck sacrifice ritual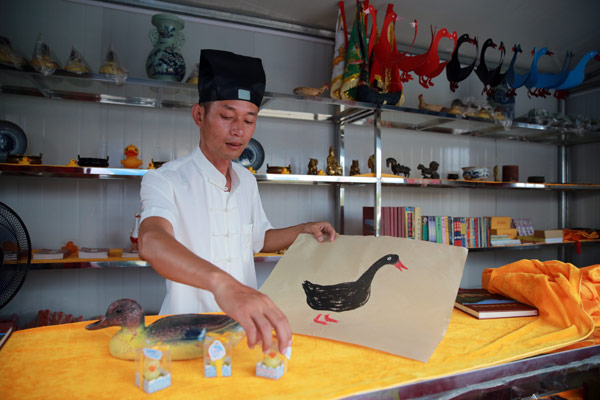 A stall operator holds up one of the paper duck drawings. [Photo by Feng Yongbin/China Daily]
Regional government officials in south-east China's Huichang county are pledging to eradicate a nearly 70-year religious tradition of sacrificing tens of thousands of ducks at local temples, to promote "love, peace and civilization".
And, remarkably, they say they are succeeding by encouraging its citizens to burn paper and plastic ducks, instead.
Every year since 1949, during the Laigong Temple Fair, thousands of Huichang residents have descended, in particular, on Cuizhu Temple in Fuwei – carrying ducks and fireworks to worship the local god Laigong, and pray for health and safety.
The ensuing sacrifices, over several days, have – as described by locals – created a ghastly "river of blood" outside the temple.
Last year, local officials decided it was time to bring an end to the local custom.
They ordered the manufacture of paper and plastic ducks – even ducks drawn on pieces of paper – and began handing them out for free at nearby stalls.
"Most of the religions in the world have the same thing in common – promoting love, peace and civilization," Guo Jinghong, the head of the Bureau of Ethnic and Religious Affairs in Huichang, told China Daily during the lead up to this month's festival.
"Killing ducks itself is a bloody behavior, so it's time for us to help the citizens understand Taoism and the true meaning of the Laigong Temple Fair."
"So, we abandoned the corrupt customs, and what we have done here is the same as that being done in many countries – that is why we choose to change."