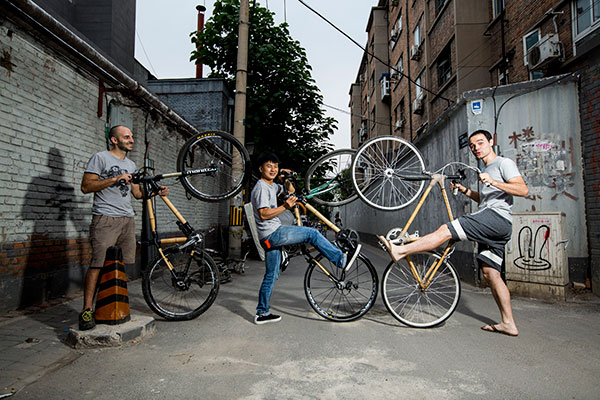 David Wang (right) and two other members of his Bamboo Bicycles Beijing workshop display their bamboo-framed bicycles in Beijing's Langjia hutong.[Photo by Shen Bohan/Xinhua] 
Beijing resident uses the woody plant to restore junked bikes
China was once known as the "Bicycle Kingdom", before two wheels were dethroned by four. Now a young US citizen living in Beijing is using his ingenuity and pieces of bamboo to restore the sovereignty of the humble bike.
Two years ago, David Wang opened the Bamboo Bicycles Beijing workshop in Langjia hutong, where he leads a team each weekend in cutting and shaping bamboo into bicycle frames. After connecting the pieces with hemp fibers and epoxy glue, they attach wheels, brakes and handlebars.
The bikes are not for sale - they are to encourage a renewed love of cycling among city dwellers. Wang, 29, hopes the light, shock-absorbing bamboo bicycles can create "a little bit more diverse mobility culture in Beijing".
Bicycle graveyard
Wang was born to a father from Hong Kong and a mother from the United States. After graduating from the Massachusetts Institute of Technology, he came to China to continue his study of anthropology.
He has lived in Beijing for more than six years and loves the city's ancient hutong, which are "constantly changing".
But he noticed a growing number of abandoned bicycles strewn among the alleyways, with people throwing away old and broken bikes with the rest of the garbage.
"Beijing is becoming a big graveyard of bicycles," Wang said. He began picking up the abandoned bikes and "rescuing" them, stripping them down, repairing, repainting, and renovating them.
Then one day he found a really rusty bicycle, which could not be "cured", so he began thinking of better materials to replace the frame. Bamboo came to mind.