Rickshaw driver eyewitness to steady change in hutongs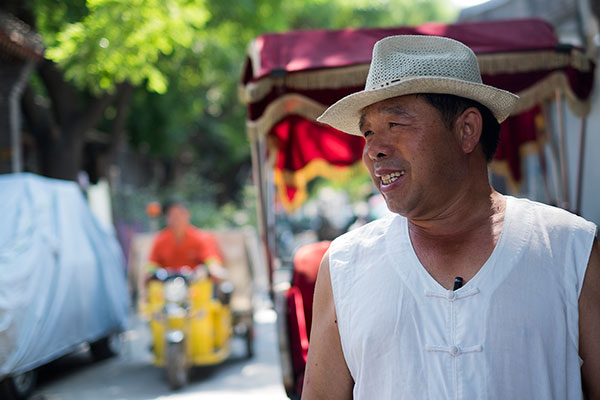 As a rickshaw driver in the hutong, Xin Yingwu witnessed the rise of modern commercialization first-hand.[Photo by Kyle Hodges/chinadaily.com.cn]
"Hutong should be the place for people to live. Since it became a commercial area, it has influenced the lives of the residents."
As a rickshaw driver in the hutong,  Xin Yingwu witnessed the rise of modern commercialization first-hand. A resident of Caochang Hutong, the 61-year-old has peddled tourists through the Nanluoguxiang neighborhoods for 12 years now and watched as the neighborhood transformed from a largely residential area to a shopping street.
Hutong Culture
To Xin Yingwu, the history of hutong architecture plays a big role in hutong culture.
"A big symbol of hutong culture is the gate of courtyard. Also, the quadrangle courtyard. Both represent the culture of Hutong."
Maintaining these structures helps to ensure that hutong remain residential. However, Wu Xinying said, as businesses move in, this residential culture is losing its importance.
"The relationship between neighbors in the hutong was better in the past than it is now. Because of the economic boom, many people only care about money. It has weakened the relationship of residents."
Hutong Change
Xin Yingwu has lived in Caochang Hutong for 26 years now. His hutong, which is separated from some of the more popular hutongs, has remained a largely traditional neighborhood.
However, as a rickshaw driver, Xin Yingwu spends much of his time near Nanluoguxiang. Because of this, he has witnessed the rapid development that occurred there.
"The impact of tourism is pretty big, because the development has made Nanluoguxiang become what it shouldn't be. It is a really old alley, dated to Yuan Dynasty. At that time, it was a residential area, even some officials like emperors. Nanluoguxiang has changed so much because the effect of commercialization has been really strong now. Things like a restaurant street should be in a commercial area, but not in a residential area. The culture has not been what it used to be."