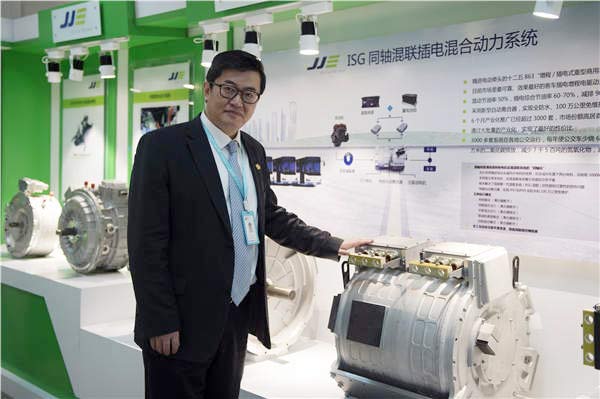 Cai Wei shows the products of his company-electric motors for clean-energy vehicles. [Photo/Xinhua]
Cai Wei of Jing Jin Electric, says research and production can push the Chinese auto industry up the green path, Mei Jia reports.
Cai Wei, chief technology officer of Beijing-based Jing Jin Electric, is the face of "made-in-China" electric motors for clean-energy vehicles.
Under his leadership, the company has become the first Chinese manufacturer to export the "heart" of hybrid and electric vehicles to the United States and Europe, helping many BMW and Benz cars roar along.
Cai leads the engineers in his company to create motors with low vibration and low noise, and holds some 40 intellectual property rights.
Based on its sales figures, the company is a leader in the country's manufacturing of electric motors, and among the top five globally.
Once an established researcher and later a successful engineer in US companies, Cai returned to China in 2008 with two suitcases and a dream to bring change.
Then 49, he decided to start a business with his partner Yu Ping in Beijing.
"What we had back then was a PowerPoint document with our business ideas and the first venture capital investment," Cai tells China Daily.
"I sat in a cramped rented house telling myself that I had nothing, but that I'd stick it out and see what I could achieve," he says.
"What if the company survived to be a listed one? What if China turned into a better place because of my trivial contributions?"
The energetic veteran engineer, now 57, has a young face, a sharp mind for numbers and uses many comparisons to explain technological terms.
"But I had confidence in what I had been doing," he says, speaking in a way that points to his Shandong roots.
Cai says China is the world's number one in sales of cars since 2009. Auto-related industries accounted for nearly 16 percent of the GDP in 2015.
"We have a big industry but not world-leading. The key lies in research and production of components with core technologies," he says.
Especially for green vehicles, he adds that the country isn't lagging behind because the world's first production line for hybrid-electric cars was established only 20 years ago.
In June, 20 Geely electric cars with Jing Jin motors were added to cars as part of the State's guest convoy by the Ministry of Foreign Affairs.