No shirt, no pants? Service with a smile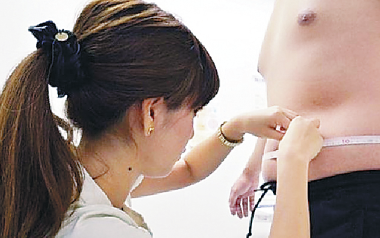 Tokyo's new naked restaurant The Amrita will ban overweight customers. [Photo provided to China Daily] 
It's hard to imagine sitting down for a hotpot dinner-or a fresh cooked lobster-totally naked. Of course, many people wouldn't dream of going to dinner, especially in a public restaurant, without being dressed.
But at least three avant-garde restaurants are challenging norms-and making headlines-by offering a "naked" dining experience. And while that experience may not be for everybody, consider this: There are 46,000 people on the waiting list for London's already-open Bunyadi.
Managers of Bunyadi insist that the goal of naked dining is not to objectify women's bodies.
But a restaurant opening in Tokyo next month will weigh pudgy prospective diners and refuse to seat any found to be too fat. The Amrita restaurant will require diners to check in their clothes and put on paper undergarments provided by the restaurant, Agence-France Presse reports.
The restaurant cautions would-be customers to avoid making a reservation or coming to the restaurant at all if they are "more than 15 kilos" over the average weight for their height.
If guests look like they are carrying a few extra pounds, they will be weighed and if they are overweight, entry will be denied. Restaurant management says those who made reservations, but were refused because of a few extra pounds, will not get a refund.
The restaurant, which opens on July 29, is similar to other nude-experience restaurants that have opened in London and Melbourne.
Such eateries insist they are not venues for an X-rated WeChat Moment. Phones aren't allowed at the tables. Customers are required to check their phones in at the door, and are asked not to touch or talk to any scantily clad diners at nearby tables.
At Amita-the word is Sanskrit for "immortality"-diners will shell out 80,000 yen ($750) for dinner and a show, while those looking for a less-expensive experience, can pay anywhere from 14,000 to 28,000 yen for dinner, according to AFP.
There are also strict age restrictions, with only patrons between 18 and 60 allowed in.
"If you are more than 15 kilos above the average weight for your height, we ask you refrain from making a reservation," a list of rules posted on the restaurant's website states, explaining that patrons could be weighed if they do not appear to be within the correct weight range.
"In London they allow overweight patrons in and some guests complained they had a terrible experience," Amrita spokeswoman Miki Komatsu told AFP, denying that the establishment was guilty of discrimination.
"If fat people are allowed in it could be miserable for some guests," she adds. "Guests can see the guidelines clearly on our homepage. We are aiming for a sort of Roman aesthetic, like the beautiful paintings you see in museums."
Guests who pay for dinner and a show will eat food served by muscle-bound men wearing G-strings and watch a dance show featuring male models.
There is not a lot of talk about the food being served.
The list of rules asks visitors not to "cause a nuisance to other guests" by touching or talking to fellow diners. Tattooed customers are barred from entry.
Those who meet the restaurant's entry requirements will be asked to lock away mobile phones and cameras in a tabletop box.
"It's impossible not to surreptitiously double-take at the topless waitress leading the way through the candlelit maze of bamboo screens that almost shield diners from heavy scrutiny," a London food writer reports after a visit to Bunyadi. But Eloise Knight, a 20-year-old female server, says she actually feels safer at the "naked" restaurant because any customer who acts inappropriately will be instantly ejected.
The ban on cellphones and cameras is not only to protect the privacy of patrons who strip off, employees say, but it's also part of the back-to-basics natural feel the restaurant promotes.
"It's about being comfortable with nudity," Knight says. "It's nice to be able to help people feel that way. It's not a sexual thing."