Bridesmaids can be rented at weddings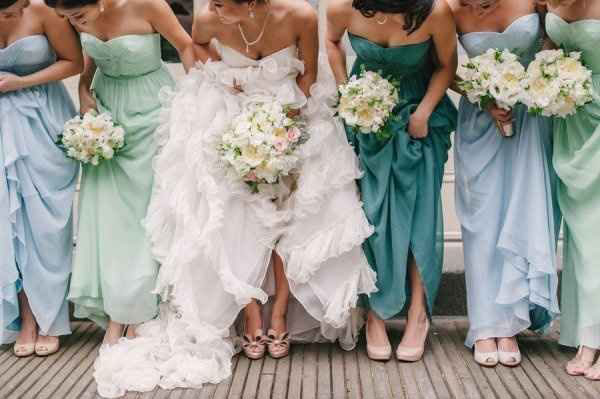 [File Photo]
"Bridesmaids for hire" is the latest promotion offered by Cheng Fei, a wedding planner in East China's Jiangxi province, and business is booming.
"It is not hard to find a best man, but it is getting harder to find bridesmaids," said Cheng, who works at the Happiness Wedding Services Co., in Nanchang, the provincial capital of Jiangxi.
Many Chinese couples like the Western wedding custom of having at least one bridesmaid and a best man.
"Many brides say that their friends live too far away or are too busy. Some are even worried that the guests' behavior is putting off potential bridesmaids," he said.
"The bridesmaids-for-hire service has gotten rather popular especially after the 'Bali incident,'" said Cheng.
On March 30, actress Liu Yan was a bridesmaid for a celebrity couple in Bali, Indonesia, and she was almost thrown into the water by the best men. The video of her ordeal quickly went viral, drawing anger and condemnation from the public over the treatment of bridesmaids.
"At least 15 couples have come to ask about hiring bridesmaids in the last ten days. Eight have placed orders, each demanding four to eight bridesmaids," said Cheng. "Usually we ask our female staff to take up the role, but if the clients request, say, better-looking girls, we can meet their demands," said Cheng. Each bridesmaid is paid 100 to 200 yuan per day.
With a growing number of young couples choosing to have a group of blushing bridesmaids, the for-hire business looks promising.
"One is not enough for many. The trend is at least three bridesmaids and three best men, just for the atmosphere," said a woman surnamed Wu in Nanchang.
In some areas, however, some hired bridesmaids have been subject to teasing and jokes at weddings, said Ma Xuesong, a folk culture researcher with the Jiangxi Provincial Academy of Social Sciences.
Chinese wedding celebrations traditionally involve a lot of banter, but this can get out of hand. Bridesmaids are often subject to unwanted physical contact, insults and forced drinking at wedding banquets.
According to the Wuhan Evening News, one woman, identified only by her surname Tian, from Wuhan city, said she would not take part unless the couple sign a contract banning any untoward behavior directed at her throughout the wedding.
"Uncivilized and indecent behavior may still occur, but lines should be drawn and guests should mind their manners," said Liu Qianding, a folk culture researcher based in Wuhan.
The maid of honor has the dubious role of being "the maid to be shamed," and some brides choose not to have one at all.
"It makes no sense to hire a bridesmaid who is a total stranger and has nothing to do with the biggest moment of my life. I'd rather have none than a rent-a-friend," said a woman surnamed Zou, who got married last month in Nanchang.