Where angels tread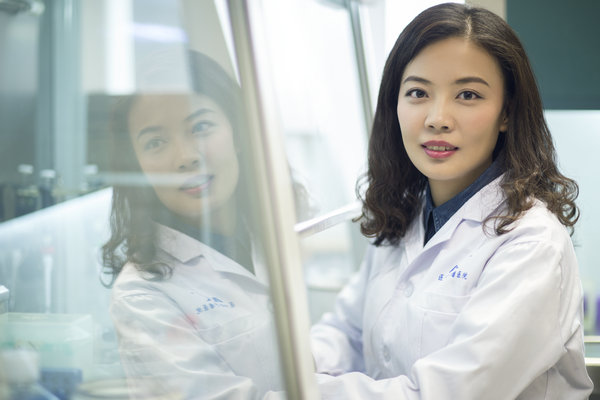 Wu Chen wins the China Young Women in Science Fellowships Award for her contribution in the research of genetics related to cancer.[Photo provided to China Daily]
Wu Chen has spent years studying how cancer may be linked to genes.
And now, her research on genetic mechanisms of cancer is being recognized by the country's scientific community.
In December, Wu, 33, became the youngest recipient of the China Young Women in Science Fellowships Award, an annual honor jointly sponsored by government agencies-the All-China Women's Federation, the China Association for Science and Technology, and the Chinese National Commission for UNESCO-and the Chinese arm of French cosmetics company L'Oreal.
The award-which was also given to eight others-seeks to highlight the contributions made to society by the country's young women scientists.
Wu is a researcher with Cancer Hospital of the Chinese Academy of Medical Sciences, where she earned a doctorate in oncology in 2011.
Her studies mostly center on genetics that make people susceptible to the risks of cancer.
Esophageal cancer is her area of specialization. The cancer related to the esophagus is among the deadliest cancers in China, with half of the world's 300,000 deaths caused by it being reported from the country every year, Wu says.
The National Central Cancer Registry says that the incidence rate of esophageal cancer is 21.62 people per 100,000 nationwide, and the death rate is more than 16 people using the same base figure.
Shen Yan, academic director with the award's panel of judges and vice-president of the National Natural Science Foundation of China, says Wu was unanimously selected for the award owing to her significant research on genetics related to cancer.
By comparing genetic samples of more than 20,000 patients of esophageal cancer with those without cancer, Wu and her team found 14 gene fragments that increase the risks of this particular type of cancer.
The findings could help identify potential patients through genetic screening in hospitals and assist doctors in recommending treatments and interventions, such as lifestyle management, to reduce the overall rates of occurrence and death due to esophageal cancer.
When researchers understand more about the mechanisms involving cancer and genes, they will know how to lower the risks of cancer, Wu says.
Two of the 14 gene fragments she and team identified are related to the human body's ability to metabolize alcohol, she says.