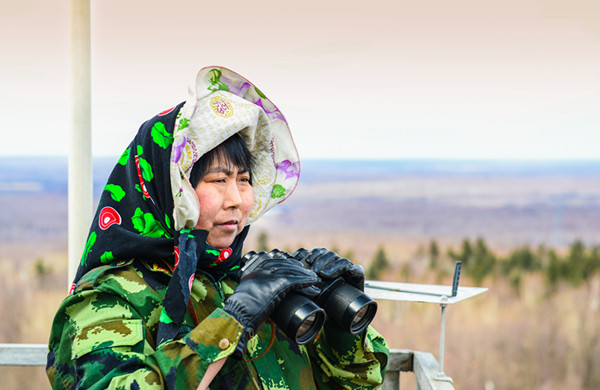 Forest ranger Zhu Caiqin stands atop a watchtower in Xingfu, a forest farm in Northeast China's Heilongjiang province. [Photo provided to China Daily]
Zhu Caiqin spent her entire childhood in a forest of the Hinggan Mountains in Northeast China's Heilongjiang province.
Since the past three decades, she has been guarding the same woodland by climbing some 70 steps of a 24-meter-high watchtower that stands on Xingfu, a forest farm of the Zhanhe Forest Bureau, to protect the area's animals, birch and basswood trees.
Zhu works as a ranger in not only one of China's largest protected forests but also a zone that is highly prone to forest fires.
"I was born and grew up in the forest. I am too familiar with it," Zhu, 50, recently told China Daily. "From the day I started the work, I decided to do it with a serious attitude, like my parents had told me when I was a girl."
Zhu and her husband, Wang Xuetang, both chose jobs as forest rangers on her father's advice. Although she failed the fiercely competitive national college entrance exam, she cleared the forest bureau's enrollment tests, and along with her new husband, at the time, were assigned to the same watchtower 9 kilometers from their home.
The watchtower where Zhu works is a key location. Besides keeping an eye on fire, she is responsible for transferring information from a control room to 20 subordinate watchtowers and vice versa.
In the early days of her job, Zhu was too nervous to speak on the intercom. And what bothered her even more was that she couldn't correctly judge the position of distant smoke, which signaled a fire in the thick grass.
Determined to succeed, she pored over study material and read up the forest's geography. She became so familiar with it that she can now accurately report the coordinates of any smoke point.
Every year, the risk of forest fire becomes pronounced during two dry periods: March 15 to June 15, and Sept 15 to Nov 15. At such times, rangers must remain at their posts, no matter what happens.
At the foot of the tower, a 12-square-meter room serves as the couple's dormitory, but they cannot go there in the event of a fire.
"Once a forest fire breaks, we can't leave the tower, even at night," Zhu said. "The room there is too small for a bed, so sometimes we have to sleep on the hard and cold floor for a week or two."
The work has aggravated her rheumatism and often gives her hunger pangs. At the beginning of fire seasons, they have to bring enough provisions to help them survive the crucial months. A few weeks into the watchtower and essential items such as fresh vegetables begin to dwindle in supply. So, they choose potato and dried vegetables instead.
The couple usually fetches water from nearby springs to drink.