Sluggish lux business has yet to touch developer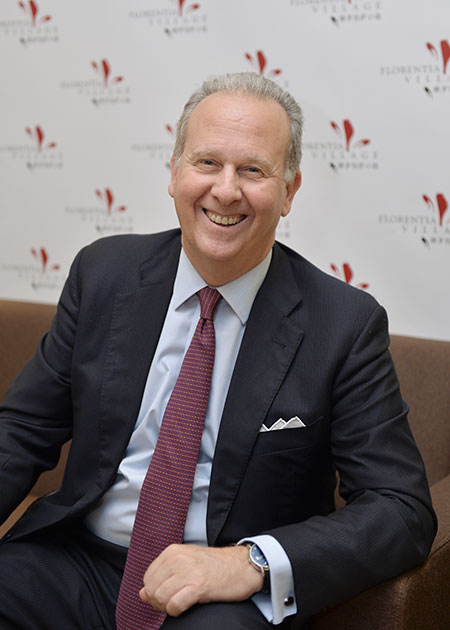 Maurizio Lupi, managing director of RDM Asia, joint developer and operator of the Florentia Village outlets. [Photo/China Daily]
China's luxury market continues to slow but a major developer offering retail spaces for designer items is seemingly untouched.
Florentia Village outlet in Wuqing, a district linking Beijing and Tianjin, saw a 25percent rise in its annual sales last year, reaching revenues of 2.18 billion yuan ($351 million), the company said in a statement. Last year, there were 4 million visitors at the outlet that turned four on Saturday.
"Honestly, we are not affected (by the recession in luxury industry).We are growing quite sharply," Maurizio Lupi, managing director of RDM Asia, joint developer and operator of the Florentia Village outlets, told China Daily.
RDM is an Italian real estate developer with five outlets in Italy and two in China.
The Wuqing outlet is located70 kilometers outside of Beijing and 40km outside of Tianjin. It serves more than 20 million consumers from the area and beyond.
"When we came here, people thought we were crazy. But the luxury brands don't want exposure in the downtown outlets when they have retail business downtown. They want to be outside," Lupi says.
The same strategy applies to the Florentia Village in Shanghai, where it is located far from the city center and near the Pudong International Airport. The Shanghai Florentia Village outlet, which only opened in January, has received 220 million yuan in revenues.
In both outlets, the distance is compensated with good road and public transport infrastructure. The Florentia Village in Wuqing is recognized for its Italian architecture style because Chinese customers prefer massive open-air places rather than shopping malls.
There are about 200 brands including exclusive outlets for brands such as Bvlgari, Celine, Chloe, Fendi, Jimmy Choo, Loewe, Longchamp and Mulberry that offer an average 70 percent discount on purchases. About 95 percent of the brands are international and the rest are Chinese. There is also a selection of emerging Italian brands.
According to Lupi, the restaurants in outlets make for important shopping experiences of Chinese customers.
The company believes the Chinese outlet industry will surpass those in the United States and Europe in the near future to be the world's biggest outlet market. Having covered big metros, the company is planning to move to second-tier cities soon.
By the end of 2017, it is expected to have one outlet each in Shanghai, Beijing, Guangzhou, Chongqing, Chengdu, Qingdao and Wuhan, at a total investment of $1 billion.