Revisiting Spring Festival memories with much relish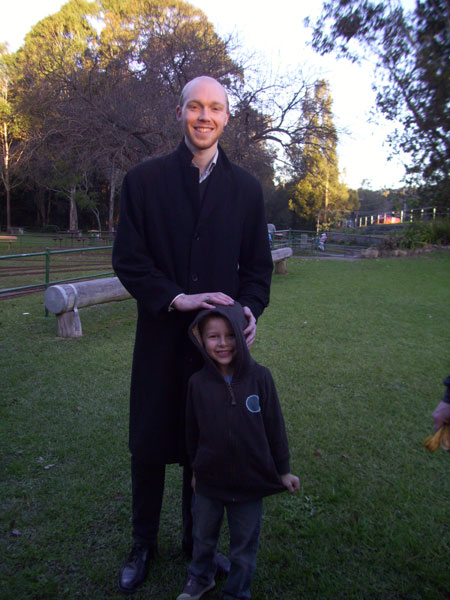 Luke Coates poses with his nephew Aiden in his hometown of Gosford, Australia, in 2013. [Photo provided to China Daily]
For many non-Chinese who have spent a considerable amount of time in China, the taste of Chinese New Year lingers even after they leave the country.
Luke Coates, a 26-year-old Australian, spent four years in China. He said that he really enjoyed the traditional Chinese New Year.
Three years ago, he went to a friend's home in Changchun of Northeast China's Jilin province and spent a memorable holiday there with the family.
"We made dumplings, played mahjong, drank erguotou (Chinese liquor), watched the CCTV Spring Festival gala," he said. "I quite enjoyed Zhao Benshan's performance."
Back in Australia, he went to the Chinese New Year parade in Sydney.
"I wore red clothes, which symbolize happiness and good luck, and watched the dragon and lion dances. It was quite fun, although it lacked the authenticity of Chinese New Year in China," he said. "I think Spring Festival is like our Christmas and what matters is the concept of family."
Stanley Seiden is currently based in Washington DC after spending three years in China.
"Chinese New Year still plays a role in my life," he said. "I don't go home to be with family or take two weeks off from work, but a lot of times other friends from China and I will at least go to a restaurant and enjoy some Chinese food together. I will attend happy hours and other events hosted by my Chinese and China-focused friends."
"I remember my Chinese New Years in China very fondly," he said.
In 2011, he missed most of Chinese New Year because he had been traveling, but he caught the last few days of the celebrations in Malaysia with a friend.
"We joined Malaysian friends (of Chinese descent) for a Malaysian salad-tossing tradition," he said. "It was nice to feel like we hadn't completely missed the holiday."
The year 2012 was more traditional for him.
He started by attempting to hitchhike from Beijing to Nanjing. "It failed miserably and I had to participate in the madness of chun yun," he said, referring to the Spring Festival travel rush. "But I liked it."
Click here to share your Chinese New Year Stories to win a smartphone!