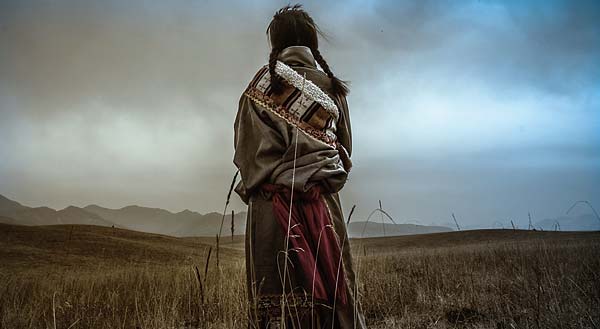 Shen Yunyao likes to document the sweeping changes of history. His photos are often characterized by a poignant sense of loss. Shen Yunyao / for Shanghai Star
His images seem to come from another world. They may even evoke a sense of déjà vu, but he tells Matt Hodges anyone can follow in his footsteps.
A woman in woven Tibetan robes looks across a vast grassland in Gansu under a darkening sky, her pigtails blowing in the wind. She is shown from behind, not an inch of skin visible. Solitary reeds surround her in an almost protective embrace.
This shot by photographer Shen Yunyao, 24, is haunting and full of dread. The palette is so dark and the texture so smooth it could be mistaken for a painting. You may feel like you have seen it before, or been there in a dream.
"Most photographers who travel to that area just focus on beautiful images of the past," he says. "But I show what is getting lost. All of my pictures contain a little?sadness, and a hint of irony."
Although it is devoid of digital surgery, there is an element of deception in the picture, albeit unwittingly.
The subject hails not from Tibet or Gansu but southeastern Hunan. She is the ex-girlfriend of Shen, a ruddy-complected and retiring Shanghai native who recently returned from four years' self-imposed exile in Southwest China.
National Geographic China plans to use some of his night sky photos in a book of the cosmos it will publish this fall, he says. Shen's debut solo exhibition opened at the eco-friendly Lohaus loft on Aug 2.
Shen went to Tibet as a volunteer after graduating with an engineering degree and ended up working for the local government there. He traveled extensively to Gansu, Sichuan and Yunnan.
At the time, he was reeling from a broken relationship in Shanghai and suffering from a form of cardiac dysrhythmia that sees his heart accelerate to a rate which, if not brought under control, could prove fatal. His doctor calls it a congenital defect.