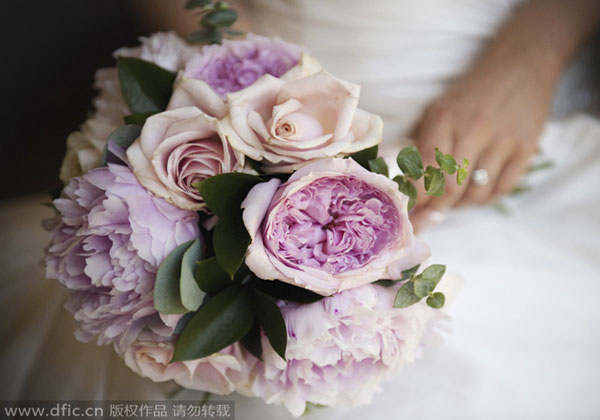 [Photo/IC]
In three months, I'll have to decide whether to change my name. Should I adopt my new husband's surname, hyphenate it with my last name, or keep things just as they've been for three decades? My byline, I've already decided, won't change.
But what about the name on my passport, driver's license, and other legal documents? In this age of social media, I'll also have to consider the fate of my profile name on several sites.
My only sister, a fashion designer in Manila, kept her maiden name on her label, website and business correspondence. But outside work, she quickly adopted her husband's surname.
She cancelled a trip to visit me in Beijing last year, because she needed to fix the paperwork required to change her passport name before the travel document expired. "If I don't change my name now," she said, "I'll have to wait another five years when my passport is again due for renewal."
Since then she has hyphenated her last name on Facebook, and even signs notes using her married name - an expression of pride in being with the love of her life.
Did she ever consider not changing her name?
No, because in the society we come from, she said, the norm is for a woman to take on her husband's surname. "That's not even a question," she said.
To most women in today's China, this is also not an issue. They can get married, divorced, remarried, and not once have to change the names they were given at birth. Chinese society doesn't expect a woman to carry her husband's family name, even if she has officially been absorbed into his family. In fact, society expects her to hold onto her name.
Before the founding of the People's Republic of China in 1949, marriage swallowed up a woman's identity. Married women became known only as someone's wife and lost their given names in family history books, says Zhou Min, director of the Chinese Heritage Center at the Nanyang Technological University in Singapore.
When the Communist Party took over China, it campaigned for equality between the sexes and "gave back married women their names", Zhou says. Women became recognized as people in their own right and were no longer defined merely by their relationships to male figures, she says.
My paternal great-grandmother, born in Fujian province in the early 20th century, appears in our genealogy only as a combination of her husband's surname and her maiden last name. But when she died in the Philippines at age 80, the family burned "paper money" stamped with her full maiden name. I remember, as an 11-year-old, being puzzled why she had a different last name from her husband and children.
Keeping my maiden name didn't become a real option until I met some of my fiance's close friends-and realized that he came from a pretty liberal background. One of those friends, Renee, chose not to change her name when she got married in the United States 28 years ago.
"I'd been Renee McPhail for a long time and never considered being anyone else," she says. "Names matter, I guess, especially for women, since they kind of disappear into the man's family." Her husband, whom she describes as "nontraditional", supported her decision.
Another friend, Ellen, has been married for four years and initially planned to adopt her husband's surname. When she realized just how much paperwork would be involved in a name change, she decided to maintain the status quo since it didn't matter to her or her husband if they had different last names.
I'd like to keep my existing name beyond my byline. In our increasingly globalized world, I think names can be a window into a person's distinct history-and mine is a reflection of being a child of both Eastern and Western cultures. It speaks of my Fujianese ancestry, as well as my parents' love of the theme song from a certain Audrey Hepburn movie.
Keeping my birth name is also an expression of pride in my heritage. It says that no matter how far I may go with my future husband, the family and land that first cradled me will always remain an integral part of me.