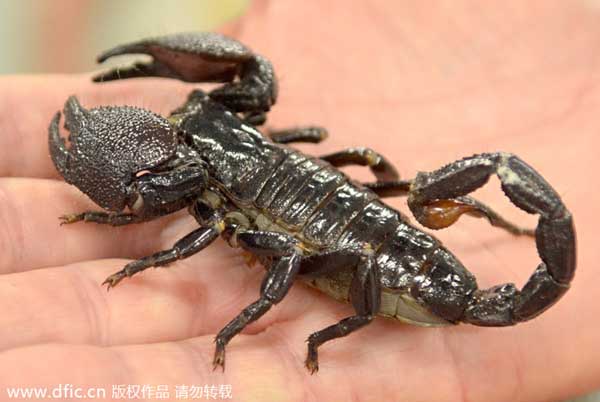 [Photo/IC]
Venom from a scorpion endemic to Cuba, "Rophalorus junceus," is being used by Cuban scientists as an effective weapon to fight cancer.
The venom, with analgesic, anti-inflammatory and anti-tumor properties, is the active ingredient in homeopathic medicine "Vidatox 30 CH," which can be used to treat breast, liver, brain, prostate, lung and other cancers.
The treatment has been successfully used for more than four years in humans after being first tested in biological models.
Labiofam, a Cuban laboratory, has breeding centers for both the Red Scorpion and Blue Scorpion.
Each month, some 30,000 scorpions in Las Minas town, 270 km east of Havana, undergo a stimulation process, in which they receive a 20-millivolt electric stimuli to remove the venom. After two years, the scorpions are released back into their natural habitat.
Denyer Sanchez, a biologist from Labiofam, explained that the conditions of captivity are tailored for reproduction, proved by the high number of breeding female scorpions.
"When the offspring, which we call nymphs, becomes able to live in the environment, we release them because they do not have the necessary size yet to remove their venom," said Sanchez.