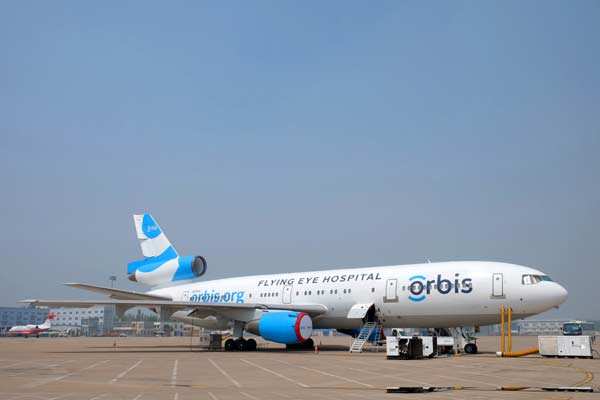 The plane swoops into communities that lack trained eye surgeons. [Photo/China Daily]
US-based NGO Orbis now has more long-term projects in China than anywhere else in the world—nine, says Orbis country director George Smith.
These training and capacity-building efforts with local hospitals run for three to five years. Each gets about $1.5 million in funding at the outset, Smith says. This pays for training Chinese doctors abroad, bringing in volunteer faculty to teach onsite, donated equipment and bio-medical training and developing a network of rural clinics that can provide public education, screening, treatment for simple cases and access to partner hospitals for the most difficult cases.
"The goal," says Smith, "is to create a sustainable network and huge eye-care capacity in the province."
The biggest effort so far is happening in Taiyuan, Shanxi province, where a $5 million grant from Standard Charter Bank will drive a five-year project.
"China has some new and amazingly sophisticated hospitals," says Orbis' medical director Ahmed Gomaa. "But sometimes the donations they get from Western charities are impressive but not appropriate. Giving a hospital millions of dollars worth of new bio-med equipment, for example, doesn't do much good without training in operation and maintenance. Some equipment like this just becomes a very expensive doorstop."
The World Health Organization says China accounts for 18 percent of the world's blind, and 40 percent of the globe's 1 million blind children. Such stats mean that cataracts and glaucoma are still big priorities.
"China's Ministry of Health is looking to us for help in some non-traditional areas with an eye to the future," Smith says. "A big one is diabetes, which is soaring in China and leads to conditions like diabetic retinopathy, which affects up to 80 percent of all patients who have had diabetes for 10 years or more. But like the other daunting statistics related to blindness, most cases are preventable if identified and treated early."
"I'm not a doctor. I'm a former PE teacher," says Smith with a smile. He's also a veteran administrator of Special Olympics and Paralympic Games—well-known to many Beijingers as a hockey fan who co-owns the Irish Volunteer bar in Lido.
"I knew a lot about Orbis when I was recruited for this job," he says. "But when I came for an orientation and took a walk through this plane, I was just blown away. It's a great model for teaching, an incredible spirit in the hospital. Put simply, it's a culture of hope."