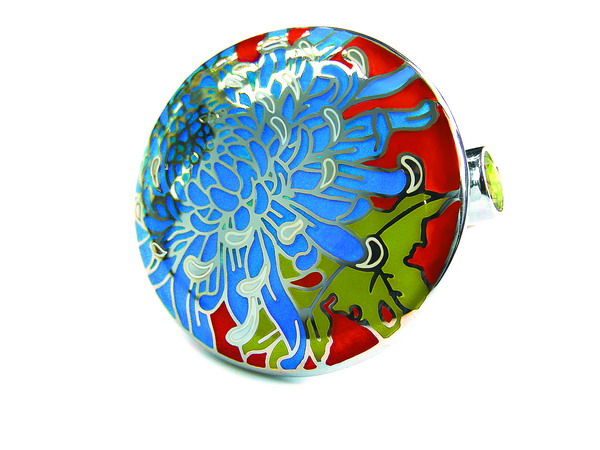 Chinese brush painting ring.
Tam's jewelry is akin to mini architecture, with organic motifs and a somewhat androgynous appeal. "I feel that my designs are quite boyish. I always try to design with someone in mind."
She enjoys working with stainless steel and silver, often combining them with precious and semi-precious gems. Rings are her specialty, and her designs often push the boundaries of what can embellish fingers - yet all are created with the comfort of the wearer in mind.
Some of her collections are inspired by themes and stories from her childhood. Her Enchantment Ring in 18-carat white gold with a 0.13-carat emerald cut diamond was based on the ancient Chinese legend of the Goddess Nuwa.
"She saved the world by covering a hole in the sky and I imagined this was the stone she used," Tam explains. "I added the square diamond to give it sparkle. The sky was a stormy gray until Nuwa plugged it, then it became bright and beautiful once more. Because this ring is based on ancient Chinese mythology, I worked hard to ensure it had a distinctive Asian feel. It uses the traditional symbol of the circle and is flat and round to symbolize yin and yang."
Tam will also produce custom designs for customers who seek a unique piece of jewelry to celebrate a special occasion. In addition, she works with various corporate clients including the Macao government to produce gifts and premiums such as intricate cloisonne boxes.
Tam's latest collection is her most personal yet. She has practiced Chinese brush painting for many years, honing her technique through long hours of patient devotion to perfectly rendering each flower's petals. "I love the colors of a Chinese painting, and I tried to capture that in my Chinese Brush Painting Collection," she says.
The collection of rings, pendants and earrings depict traditional Chinese flowers such as peonies, chrysanthemums or plum blossoms. Tam chose vignettes from her favorite paintings and reproduced them on silver medallions finished in resin. Each is embellished with a complementary semi-precious stone.
The silver gives the pieces substantial weight that hangs well and feels pleasant while worn, but without being too heavy. As with her other collections, Tam's play on scale makes each piece stand out against the skin. Crimson, indigo and leaf greens are outlined in silver relief to give them an illustrative quality.
"I'm still trying to get the colors to be as bright as my paintings," she explains. "It is one of the things we are working out through the production process."
Tam believes that in spite of the phenomenal changes Macao has experienced since the handover, it is a place where she finds inspiration. Her entire family has since joined her in Macao and she shares her studio with her younger brother Eric, a successful residential interior designer.
"The city is becoming more and more open and international," she says. "It's nice to see heritage buildings being preserved - much healthier for our urban environment. I have never regretted moving here."