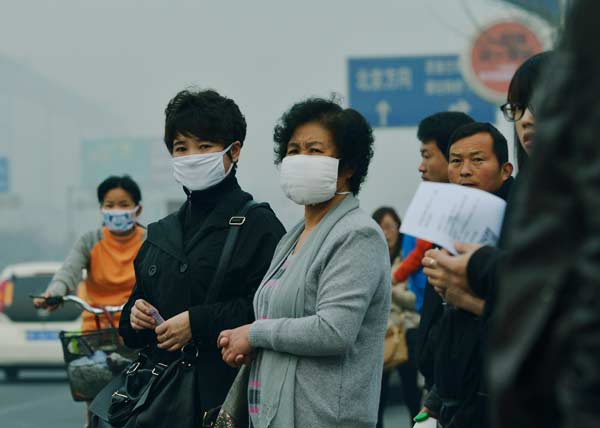 People wear masks on a smoggy morning in Langfang, Hebei province. Air pollution is now a big concern with the increasing rate of lung cancer. [Photo provided to China Daily]
"The cancer situation in China is too complicated to be simply summarized," Chen says.
Lung, liver, stomach, esophageal and colo - rectal cancers are the top killers in China, with lung cancer killing 490,000 annually.
Breast, lung, thyroid, colorectal, cervical and pancreatic cancers are rising sharply, and the main causes, Chen concludes, are an aging society, industrialization and life-styles.
In 2011, the death of breast-cancer patient Yu Juan drew wide attention to the killer disease.
The 33-year-old university teacher in Shanghai got a late-stage diagnosis in 2009. Later she started blogging about her triumphs and setbacks in her fight against cancer, to raise awareness of the disease among the public, and younger women in particular.
Breast cancer has become the most common cancer among Chinese women, with more than 160,000 cases detected a year. The incidence is rising at between 3 to 4 percent annually, and most cases are found in big cities, according to a study GE Healthcare China released in 2013.
Unhealthy lifestyles are partly to blame for the rising incidence, notes Wan Donggui, a breast cancer specialist with China-Japan Friendship Hospital in Beijing.
High-fat diets and a lack of exercise can cause estrogen to rise to abnormal levels and increase the risk of breast cancer. Young women in big cities live under great pressure, and many of them choose not to have children or have them later in life. This also increases the risk of breast cancer, Wan explains.
Another cancer that has had an upswing in cases is cervical cancer, due to lifestyle changes, according to Chen.
The main cause of cervical cancer is the infection of the human papillomavirus, or HPV. In the past 10 years cervical cancer has been on the rise, especially in urban areas, because people are exposed to sex earlier and tend to have more sexual partners, Chen says.
The overall cancer rate in China stands at 235.23 out of 100,000, which is low worldwide. But compared with developed countries, such as the United States, China has relatively high death rate - 148.81 per 100,000 people in 2010.
The lack of adequate cancer diagnosis, as well as limited treatment capacities in less developed areas, greatly contributes to the problem, experts say.
Li Jian, director with the thoracic surgery department at Peking University First Hospital, says many of his patients are those whom other hospitals have refused to treat - either because their diagnosis is too late, or because their situation relapses and becomes too hard to deal with.