Game mash-up fails to hit the mark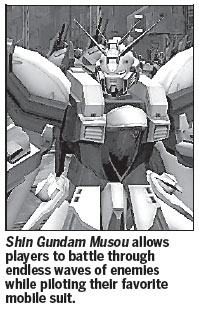 When two of the best franchises of video games and geekdom merge, greatness is the expected outcome. However, sadly for Shin Gundam Musou, that is not the case.
The Dynasty Warriors franchise is a game series that is phenomenally popular in Asia. Taking famous characters from China's Three Kingdoms (AD 220-280) era and throwing them into battle against hordes upon hordes of bad guys is a formula that has worked for game developers Koei since the first Dynasty Warrior in 1997.
Add a Japanese giant robot sensation to the mix, and you have created the blockbuster Dynasty Warriors Gundam. Giant robots from the popular science fiction Japanese animation Gundam take the place of characters like Cao Cao and Zhang Fei.
Split between two modes, official mode and ultimate mode, Shin Gundam Musou gives players the choice to play as some of their favorite characters across the Gundam universe, including the most recent addition, Gundam Unicorn.
In official mode, players are given the choice to play storylines that follow the plot of various Gundam shows. If the player chooses to play the Gundam Seed story line, the player takes the role of Kira Yamato and the Freedom Gundam. The story follows the exact story of the anime except the player is in control of the Gundam.
On the opposite side, the ultimate mode allows players to play in random story mash-ups, where characters from different universes and timelines converge and do battle. Unlike in official mode, there is no voice acting for the ultimate mode; instead the player is greeted by boatloads of text, often text in a story that doesn't really work out. But hey, who's playing a Dynasty Warrior game for text?
Regardless of modes, the point of Gundam Musou is to destroy things with giant robots.
Sadly, this once glorious mash-up of the two series fails to create fireworks. While graphically amazing, the game is pretty much a rehash of the previous installations in the genre. Battle is stale with the same button-mashing mechanics and the artificial intelligence for enemies is just lazy. For most of the game, the player is literally just attacking masses of enemies that pretty much stand still.
Glance
Shin Gundam Musou
Price: $50
Language: Japanese and Traditional Chinese text, Spoken Language in Japanese
Rating: Ages 12 and up
Platforms: PlayStation 3 and PlayStation Vita (Vita version reviewed)
Release Date: 1/24/2014 Chinese Version
Should you play this?
No.
This game will only be appealing to fans of the Gundam or Dynasty Warrior franchises. Anyone looking for a game with a challenge or a story should look elsewhere.