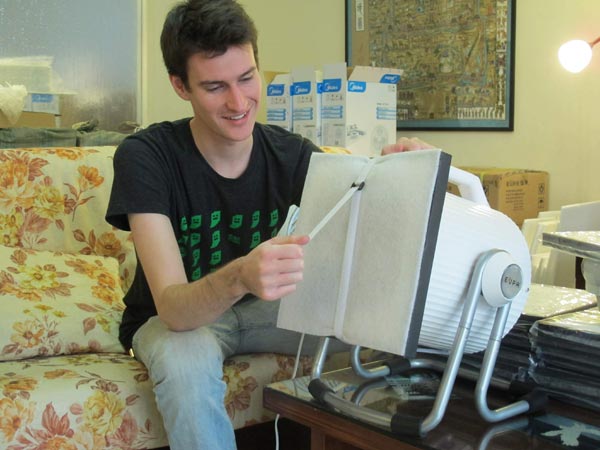 Gus Tate from the United States straps a high-efficiency particulate absorption filter onto a fan to make a do-it-yourself filtration kit. Photos Provided to China Daily
When Beijing was hit with horrific bad smog in early 2013, one group of friends saw past the fog to a bright spark of opportunity - creating and selling homemade air filter kits. Eric Jou has the story.
In early 2013, northern China was hit with a particularly bad spell of poor air quality. This period in Beijing became known around the world as the "airpocalypse", and the nation's capital was compared to the futuristic dystopia depicted in movies such as Blade Runner. However, for one team of young Americans and Chinese, the air crisis was the inspiration for a brilliant project.
Gus Tate, who has been in China since 2007, has spearheaded a project with his friends and partners to educate people who live in Beijing about the benefits of having an air filter in the home.
Tate, who now runs the social enterprise Smart Air Filters, got involved in the sale of do-it-yourself filtration kits through his friend Thomas Talhelm. Tate says that Talhelm, who was researching cultural psychology in China as part of a Fulbright program, became interested in air filters when the "airpocalypse" hit Beijing in January 2013.
"He started to think more and more about air pollution," says Tate. "He started looking up stuff online and he found out that all you really need is a HEPA filter and so he decided to strap one together. It's not the first time that people have done it."
Talhelm's project is very simple. Essentially, it's taking a high-efficiency particulate absorption (HEPA) filter and strapping it onto a fan. The fan sucks in air and blows it out through the filter. The project attracted a lot of attention when Tate procured a particle counter and Talhelm posted the results of air-quality tests, before and after the homemade filter had been running, on his Tumblr blog. It was not long after that Smart Air Filters came into being.