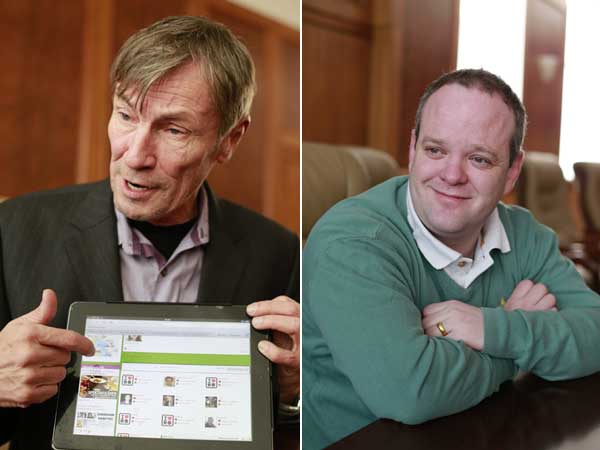 Richard Ridealgh (left) and Richard Roman are committed to connecting Chinese and expats living in Changchun
Briton Richard Ridealgh has successfully integrated in the local society in Changchun, capital city of Jilin province. He married a Chinese woman, runs a language school and usually hangs out with Chinese to drink baijiu, a very strong spirit that is a must on people's dinner tables in the city.
In contrast, Richard Roman, Ridealgh's compatriot, retains his Western lifestyle in the northern city even though he has lived here for about 10 years. He only drinks wine and beer, usually goes to coffee bars and attends gatherings like music nights and poetry nights at fancy restaurants.
The lifestyles of Roman and Ridealgh are very different, but both of them can live convenient and happy lives in a second-tier city in China thanks to online platform Changchunfriends.com, a website providing useful daily life information for expats living in Changchun.
In fact, it is Roman and Ridealgh who set up the website in 2006.
"Our initial aim is to connect foreign communities with local Chinese," says Roman, a lecturer at Changchun University.
The local website provides everything from maps of the city, to events and activities, to restaurant reviews, all in English. Both foreigners and Chinese living in the city can apply for membership. It has more than 1,000 registered members, half of which are expats.
There are now about 3,000 foreigners living in the northern city of Changchun, made up by two main groups: engineers working in the city's car industry and language teachers offering guidance for people eager to know Western culture.