Marriage of a life time
More than 1,000 couples who took their wedding photographs in a studio more than 25 years ago, have been invited to relive their experience. Wu Ni reports in Shanghai.
Shanghai does not lack fancy photo studios competing for young customers with avant-garde fashion styles.
In October, a time-honored and perhaps the city's last Stateowned photo studio attempted to give their old customers a chance to relive their life's precious moment.
Couples who are able to show wedding photos they took more than 25 years ago at the studio can enjoy a wedding shoot for free at the 70-year-old People's Photo Studio.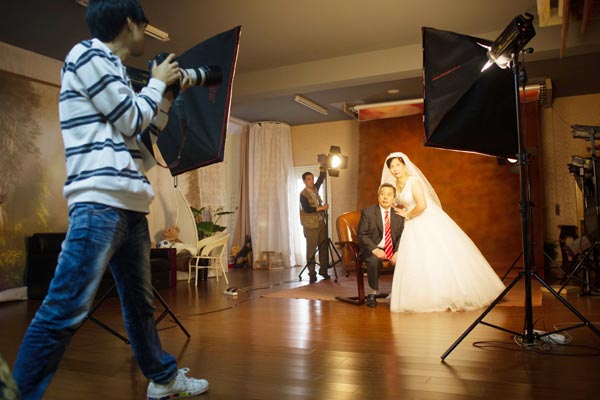 A couple surnamed Luo takes their 30th wedding anniversary shoot at the People's Photo Studio. Photos by Gao Erqiang / China Daily
Since the invitation was issued, elderly couples have been crowding the studio.
Du Weihong's hands were shivering as he tried to remove his black-and-white wedding photos from three brown paper bags, marked with the studio's logo. The photos, as well as the bags, were so well kept even though 30 years had passed.
"I will never forget the experience," says the 58-year-old.
"It was the first time we took photos in a photo studio and it was our wedding shoot! I was very nervous and sweated a lot. I just could not strike the right pose before the camera. The photographer, a tall man, was patient and spent a long time adjusting my pose," he recalls.
Du paid 20 yuan ($3.28), half of his monthly salary as a worker in the transport industry, for a set of three photos - two of the couple and one of the bride.
"It was a luxury to take photos in the People's Photo Studio at that time. For commoners like us, taking wedding photos is the only time we splurge our money," he says.
Zhang Jianjun, vice-general manager of the studio, has been working at the company for more than 40 years and was proud to talk about its past glory.
The studio, initially named Qiaoqi Photo Studio, was set up by a Russian merchant in 1940 and was sold to one of the studio's Chinese employees when the merchant returned to his home country in 1949.
It was famous for its Europeanstyle decoration, the skilled photographers and the techniques of dyeing the black-and-white photos into colorful ones that look like oil paintings. The city's elites and celebrities were among its guests. Among them were the Rong's family, an influential financial and industrial empire in China whose business ranged from cotton yarn to finance.
In the 1950s, China's individual private businesses were sold to the State or converted into joint public-private companies based on the principle of establishing a planned economy. The photo studio became State-owned and was renamed as People's Photo Studio on Oct 1, 1959, the 10th anniversary of the founding of People's Republic of China.
"There were many photo studios in Shanghai but the People's Photo Studio was the most expensive one because we had some renowned photographers and we were famous for Shanghai-flavor photography," Zhang says.
However, as private photo studios from Taiwan sprung up in the city in the 1990s and digital cameras were mastered by many, the People's Photo Studio gradually lost its popularity. In 2010, it had to move out from its longtime location on Huaihai Road, the downtown commercial street boasting grand shopping malls and luxurious brands.