Rice 'hamburger'
Yoshinoya, a Chinese snack shop known for its rice with beef, has opened its first "sunshine new store" in Xidan in Beijing. The restaurant adopts an open kitchen, and an LED screen, showing customers the whole process of food preparation. The move aims to show customers the enterprise's determination to ensure food quality and safety.
At the same time, the restaurant released a new item on the menu, a "rice hamburger", which uses two layers of flattened rice cake instead of flour cake to make the buns. The rice is from northeast China. There are two versions, one with kimchi and beef slices, another with chicken fillet.
B1 Xidan Shopping Mall, 120 Xidan Beidajie, Xicheng district, Beijing. 010-6603-4412.
Tango with new menu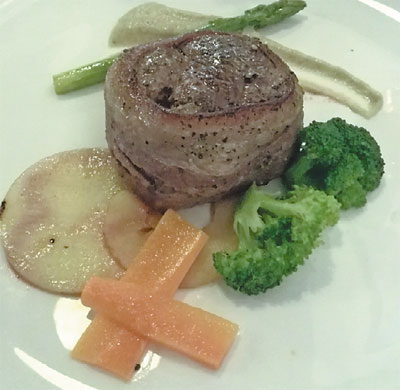 Che Diego Spanish restaurant has renewed its main menu. The "executive menu" is designed for lunch on workdays, consisting of an appetizer, main course and dessert. The "combo menu" is for customers who want to eat healthily and have little time for it. They also have a brunch menu for weekends.
The restaurant has invited two professional tango dancers from Argentina to stage shows every evening. Their techniques are sure to wow the guests. They are also giving group and individual classes in tango for beginners and learners of intermediate levels.
B1-217 Sanlitun Soho, 8 Gongti Beilu, Chaoyang district, Beijing. 010-5785-3608
- Ye Jun
(China Daily 12/01/2013 page14)