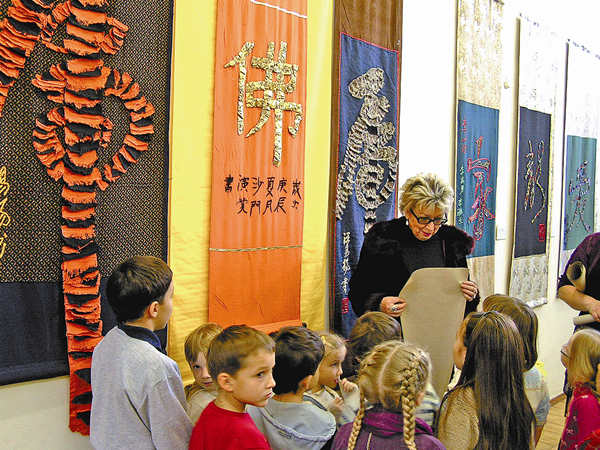 Irina Zakharova conveys her love for Chinese culture to children in member nations of the Shanghai Cooperation Organization. Photo provided to China Daily
She came to China at a very interesting time, and stayed to nurture a love for the country's folk art. She tells China Daily that her collection began with a simple question.
A large part of Irina Zakharova's life is associated with toys, children and art. With a doctoral degree in classical art and art theory from Lomonosov Moscow State University, she started to work at the Pushkin State Museum of Fine Arts soon after graduation in 1977.
Four years later, her husband was appointed the cultural counselor to China and Zakharova moved to Beijing along with her husband and daughter.
Growing up in a historic period when China and the former Soviet Union had a very close relationship, Zakharova was as interested in China as she was curious. But she was also very reluctant to leave her job at the museum. She loved the job, which in her words, "is not a job, it's my life".
Happily, she soon found a way to continue her artistic pursuit and museum work during her stay in China.
Soon after the family's arrival, Zakharova remembers that her daughter received a birthday gift from a Chinese friend, a folk toy of a boy sitting on a fish.
"Why is he sitting on a fish?" her daughter had asked.
"The question brought me back to my childhood in the 1950s. I saw a lot of Chinese folk art at that time, and I had been puzzled, too," says Zakharova, who is now in her sixties.
After asking her Chinese friends, Zakharova found out that the word "fish" in Chinese is homophonic with "abundance", so the fish represents the people's hope for affluence.
Zakharova soon realized the richness of Chinese traditional culture behind folk toys and she started collecting them.
Her toys, which total more than 5,000, have been exhibited not only in her home country Russia, but also in other member countries of the Shanghai Cooperation Organization like Kazakhstan, Kyrgyzstan, Tajikistan and Uzbekistan.