My China Dream | Africans at Shaolin
A cultural exchange course offers young Africans a tough but rewarding experience at the famous Shaolin Temple. Qi Xin in Dengfeng and Han Bingbin in Beijing report.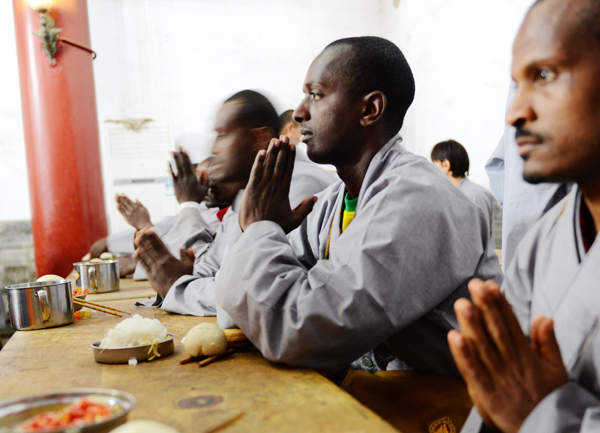 African students join the monks for the lunch at Shaolin Temple that begins with a ritual before eating. Photos by Xiang Mingchao / China Daily
At 4 am in a hotel in Dengfeng, Henan province, a 32-year-old Nigerian woman, Peace Emezue, wakes to the cries of "jihe"! ("assemble"). Half an hour later, still sleepy, she shows up in the lobby to join 19 other young Africans, all dressed in gray robes and canvas shoes.
They walk in two lines for 15 minutes to the Shaolin Temple. This is the routine six days a week while living the life of a Shaolin monk. Founded in the fifth century, the monastery is long famous for its association with Chinese martial arts and particularly with Shaolin kung fu.
The morning classes start with these "disciples" closely following the monks' moves and listening to them chanting, a chance to observe and hopefully experience for themselves a state of tranquility.
Like her name, Peace Emezue says she has sensed the spiritual moment several times.
"When I came to Shaolin, I was surprised because the life here is peaceful and simple," she says. "But it is also quite tough — the morning exercises, the hard training. We do it every day except Sundays. It is a lifestyle I am not used to, but I am getting used to it now."
To strengthen cultural exchanges between China and Africa, the Ministry of Culture launched the "Shaolin Kung Fu Training Class for African Disciples" last month, enrolling 20 students from Tanzania, Ethiopia, Mauritius, Uganda and Nigeria. The course lasts three months.