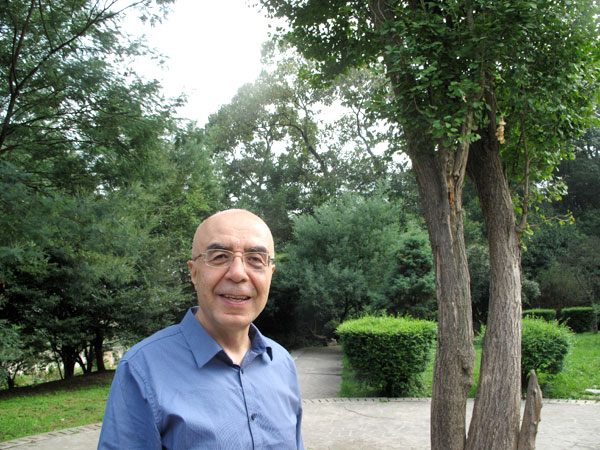 Medical scientist Yaacov Ben-David in Guiyang, Guizhou province. [Photo by Sun Yuanqing/China Daily]
A Canadian medical scientist has moved to China in the hope of discovering a cure for cancer using a mix of Western and Eastern medical practices.
Yaacov Ben-David is an internationally renowned molecular biologist and he recently put down roots in Guizhou province in Southwest China, a place he believes the next generation of cancer cures will come from.
With its ample resources of traditional Chinese medicine and specialists with the knowledge of how to extract pure compounds from natural herbal remedies, Guizhou is only a step away from finding the ultimate cure, Ben-David says.
"They develop compounds from TCM but there is no one here to find the functions against the disease, particularly cancer. That is my expertise. I saw the match between me and this group," he says.
Based on TCM natural cures and ethnic medicines, Guizhou's pharmaceutical industry totals 20 billion yuan ($3.27 billion) a year. It is now seeking driving forces through further research and innovation, and part of the effort is to attract overseas professionals.
"Yaacov Ben-David makes up for what we lack the most, preclinical models for diseases, especially cancer. These models will help us select the right compounds against cancer," says Luo Heng, a researcher in Ben-David's tumor pharmacology research team at the Key Laboratory of Chemistry for Natural Products of Guizhou Province under Chinese Academy of Sciences.
At a time when Western academies are suffering budget cuts, China is trying hard to attract more academics and entrepreneurs from abroad. In late 2011, the government initiated the One Thousand Foreign Experts Project, to invite more specialists into the country in the next 10 years.
Successful candidates get a subsidy of up to 1 million yuan from the central government and scientific researchers can get 3 to 5 million yuan in research allowances.
As a key foreign expert brought in by Guizhou this year, Ben-David is also applying for the project with his team in order to obtain stronger support for their project.
The group already has 2 million yuan from the provincial government as startup funding and another 5 million yuan to build the largest international laboratory in Guizhou. This kind of support would not have been possible back in North America given the current economic situation, he says.