Mandarin enjoys greater status in France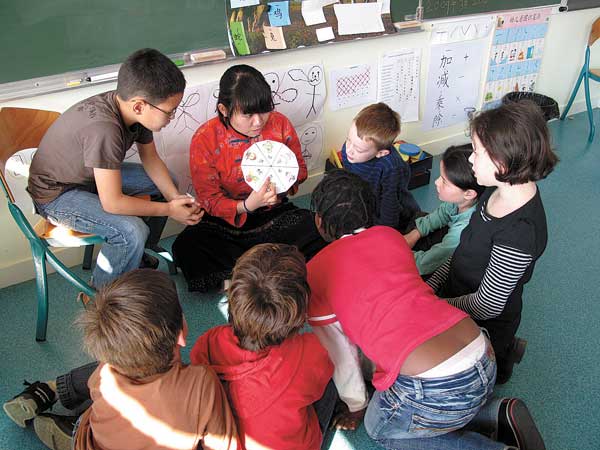 A volunteer teacher gives French students a Mandarin lesson. Provided to China Daily
After an exhausting 10-hour flight and nine-hour train ride, Chang Chunjiao, a college graduate from China, finally arrives in Tarbes, southwestern France. She will work as a volunteer Mandarin teacher there for a year.
Related:Chasing the dragons
Chang, 23, is among a recent batch of volunteers sent by the Chinese Ministry of Education who are ready to go to 40 French cities and towns to teach Mandarin in schools.
Some of her peers will work and live in big cities such as Paris and Lyon, and others will go to places such as Tarbes, with a population of 100,000, near the border with Spain.
Chang is teaching in a high school that has introduced seven foreign languages, and Mandarin is enjoying increasing popularity there.
In fact, Mandarin is enjoying greater status than before across the country. For the semester that started last month, 33,500 college and middle school students and 4,500 primary school students started or resumed Chinese classes, according to newspaper Le Monde. It is a 10-percent increase from last year and five times the number a decade ago, it reported.
The number of students learning Mandarin in France is estimated at between 60,000 and 70,000 if private educational institutions are included. At the same time, about 8,400 French students are studying in China, the Chinese embassy in Paris says.
Chinese has also jumped to the fifth-most popular foreign language taught at French schools, after English, Spanish, German and Italian. Mandarin classes are now offered in all French academic districts, Corsica becoming the latest addition last month.
"French students are very enthusiastic about Chinese," Chang says. "Some are very much into Asian culture and some believe mastering Chinese will add to their competitive edge when they apply for college or a job."
Though Chang says she sometimes feels deep pangs of homesickness, particularly given the scarcity of Chinese living in Tarbes, she has already decided to extend her stay when her one-year term ends.
Experts say the growing popularity of Chinese in French schools has a lot to do with financial pragmatism.
"My students have various profiles but their enthusiasm for China and the Chinese owes much to the economic development of the country and the resulting media coverage," Le Monde quoted Alice Ekman, a China specialist at the French Institute of International Relations, as saying.